Bali Elephant Ride And Ubud Tour Is One Of The Exciting Bali Combination Tour Packages To Offers And Enjoying 15 Minutes Elephant Ride And Explore Ubud Tourist Attraction.
The Highlights Of Bali Elephant Ride and Ubud Tour
Enjoy the elephant back safari ride
Explore a small rain forest dwelt by some group of monkeys in heart of Ubud Bali
See the ubud royal palace and ubud art market
Short Descriptions Of Bali Elephant Ride and Ubud Tour
Bali Elephant Ride and Ubud Tour is one of the best Bali Combination Tour Packages to enjoy the elephant back safari ride and combine with visiting the most famous tourist attractions in Ubud Village.
Bali Elephant Ride and Ubud Tour will visit Bakas Elephant Park for the elephant back ride. You will see and explore the hidden beauty of Bakas Village through the jungle and riverbank. The tour will continue to visit Ubud Monkey Forest. Ubud Monkey Forest is a small monkey forest in the center of Ubud village.
Bali Elephant Ride and Ubud Tour will continue to visit the Puri Saren Ubud Palace. Ubud Palace was a traditional residential house of Ubud King a long time ago. The tour will continue to visit the Ubud Art Market. Ubud Market is the best place to buy local handicrafts or clothes. If you have good skills in bidding, you can get a better price.
Then our driver will drive back return to the hotel. Bali Elephant Ride and Ubud Tour will bring you to the wonderful memory with different experiences as the feature of this package.
The Popular Tourist Attractions Will Be Visited
Bali Elephant Ride Adventure is one of the Bali Activities Tour Packages to enjoy riding an elephant on a teak chair like a king through a forest and riverbank. All elephants come from Sumatra. We from the tourism side want to try our best to preserve this species by making adventures in Bali. Read More > Bali Elephant Ride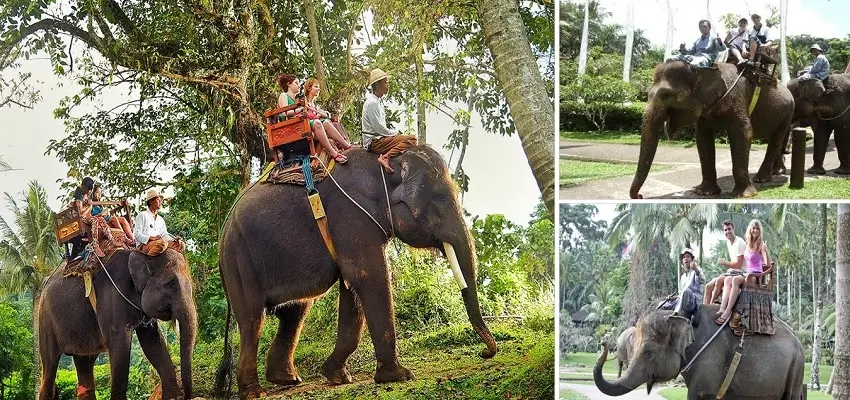 Ubud Monkey Forest is a small rain forest dwelt by some groups of monkeys and other tropical animals. The monkey forest is located in the heart of Ubud Village. Monkey Forests in the Balinese language called Wanara Wana are spread out on the Bali island. Ubud Monkey Forest itself owns a very important function in the continuity of the monkey habitat in Bali. Meanwhile, the local community has an important role to keep. Read More > Ubud Monkey Forest
Ubud Palace is one of Bali's tourist attractions located at the heart of Ubud Village. The Royal Palace of Ubud with beautiful traditional Balinese houses is the residence of the King of Ubud. Located in the center of Ubud Bali with a traditional art market right in front of it and was found by Ida Tjokorda Putu Kandel who ruled from 1800 – 1823. This palace is the center of artistic and cultural life. The traditional market is a symbol of the local economic resident. Read More > Puri Saren Ubud
Ubud Market is a traditional art market in the center of Ubud village. Ubud Market is the economic center of the Ubud community and is located opposite the Ubud Palace called Puri Saren. The market that stretches from west to east is divided into two groups with different purposes. It is a very simple way and easy to find Ubud Market since it is very famous among the Balinese and it is strategically located in the center of Ubud Village. Read More > Ubud Art Market
Bali Elephant Ride and Ubud Tour Price
US$95/person > (Adults)
US$85/person > (Children 8-10 years old)
Get Our Best Offers Today!
Reserve now and pay later at the location
Free cancellation up to 24 hours in advance
Secure your spot while staying flexible
The price is valid only this week!
Bali Elephant Ride and Ubud Tour Price Inclusive Of:
15 minutes Elephant Ride at Bakas Elephant Park
Entrance fee at all tourist destinations as mentioned
Private Air-conditioner vehicles include fuel
Professional English speaking driver
Parking Fee
Lunch Indonesian Food at Bakas Restaurant
Mineral water during the trips
Bali Combination Tour Price Not Inclusive Of:
Other personal expenses
Tips and gratuities (optional)
English speaking tour guide
Things You Need To Know:
Your exact pick-up time will be confirmed in your voucher email
This activity is subject to favorable weather conditions
If the trip is canceled due to poor weather, you will be given the option of visiting another site at no additional charge
Please pay attention to the monkeys at Ubud Monkey Forest area. It is important to remove shiny materials (earrings, necklace, hair-clips, glasses, etc) which may attract their curiosity.
You should to bring Hat, Camera, Sun Glasses, and Sun Screen.
Bali Elephant Ride and Ubud Tour Itinerary
09:00 AM: Pick up at the hotel
10.30 AM: Enjoy Bali Elephant Ride Tour
12.00 PM: Enjoy Lunch at Bakas Resto
14.00 PM: Visit Ubud Monkey Forest
15.00 PM: Visit Ubud Royal Palace
16.00 PM: Visit Ubud Art Market
17.00 PM: Back to hotel
18.00 PM: Arrive at the hotel
Pick Up Information:
Free hotel pick-up and drop-off for customers staying in the South Bali area only (Seminyak, Legian, Kuta, Nusa Dua, Jimbaran, Sanur, Denpasar, Benoa Harbour, Airport.) with pick up time at 09.00 AM.
Pick-up in Uluwatu, Canggu, and Tabanan areas will incur an additional surcharge of IDR50,000/person. Should be paid during pick up at 08.45 AM.
Pick-up services from locations not mentioned above (such as Lovina, Candidasa, Amed, etc.) are not available due to the distance.
Kindly wait at the hotel lobby 5 minutes before the pick-up time and present your confirmation voucher to your driver before departure.
Route Map Bali Elephant Ride Ubud Tour
Terms & Conditions Of Bali Elephant Ride and Ubud Tour Packages
Minimum booking: 2 participants
Single traveler: additional charge of 50% will apply
Forbidden: for guests with asthma disease, epilepsy
Flexible Tour: Please feel free to contact us if you have any own itinerary
Private tour: means there is no other participant, just only you and your companion.
Reasonable and fair prices: that means no hidden fees
Payment method: Cash On Arrival
Payment in Indonesian Rupiah: based on the latest exchange rates
Cancellation Policy: Full refunds will be issued for cancellations made at least 24 hours before the activity.
How To Make A Reservation?
Step 1: Check Availability to our reservation staff through WhatsApp or Email
Step 2: Submit Booking, After we reconfirm the tour availability, then submit your booking form
Step 3: Booking Confirmed, After receiving your booking request, Our customer service will send you the voucher via WhatsApp or Email.
Step 4: Ready To Travel, You can show the e-voucher to our driver upon pick-up time then complete the payment
Use this booking format below if you would like to make a booking through WhatsApp or Email
Full Name:
Nationality:
Total Person:
Phone Number:
Hotel:
Room Number:
Tour Name:
Date Of Tour:
Our email may go to your spam mailbox, please check your spam mailbox if you don't receive our response immediately.
The Bali Elephant Ride and Ubud Tour will be completely enjoyable using our private air conditioning vehicle and accompanied by our professional Bali Tour Guide, who is outstanding beside you to give complete information.