Bali Trolling Fishing Tour is a Bali Fishing Tour Programs in Bali islands to enjoy method of fishing where one or more fishing lines, baited with lures or bait fish, are drawn through the water. This may be behind a moving boat, or by slowly winding the line in when fishing from a static position, or even sweeping the line from side-to-side, when fishing from a jetty.
Bali Trawling And Bottom Fishing Tour – Best Combo Fishing Trips
Bali Trolling Fishing is used to catch pelagic fish such as mackerel and king fish. And this method is used for game fishing when fishing from moving boats to catch large open-water species such as Tuna, Mahi Mahi (Dorado) Wahoo, Barracuda, Trevallies, Sail Fish and from time to time Blue & Black Marlin.
Price
Bali Trolling and Bottom Fishing Tour Price
Cost: USD200/person (minimum booking two participants)
2 hours trolling fishing technique
2 hours bottom fishing technique
Bottom Fishing Tour Price Inclusive Of:
Return Transfer from your hotel covered (Sanur, Kuta, Nusa Dua area)
Skipper Boat and Crew
Fishing guide
Meals, Soft Drink, and Mineral Water
Bait or Lures
Fishing equipment
Insurance
Itinerary
Bali Trolling Fishing Tour Itinerary
Terms
Terms and Conditions:
Price is per person and minimum 2 person
Trolling Fishing Duration 2 hours
Bottom Fishing Duration 2 hours
Booking should be done at least 2 days before the trip otherwise charter boat will be available.
August, September, Dec 25th – Jan 10th will be add High Season surcharge at US$ 30 per person.
The Fishing Tour provided by Ena Fishing Discover
Booking
How To Make Reservation?
To complete your booking, please provide us the following detail as below:
Full Name:
Nationality:
Total Person:
Phone Number:
Hotel:
Room Number (optional):
Tour Name: Bali Trolling and Bottom Fishing Tour
Date Of Tour:
Send you inquiry to:
We will send you the voucher with booking confirmation via email after we receive your details information. Then you have to reconfirm the email to make the final booking.
Trolling (Trawling) Fishing Method
To be effective, trolling baits and lures must have the visual ability to attract fish and intrigue them with the way they move through the water. Most trolling lures are designed to look and behave like dying, injured, or fast moving fish. They include:
Surface lures, also known as top water lures. They float and resemble prey that is on top of the water. They can make a popping sound from a concave-cut head, a burbling sound from "side fins" or scoops or a buzzing commotion from one or several propellers.
Plugs are also known as crankbaits. These lures have a fishlike body shape and as they troll through the water they make various movements caused by instability due to a scoop under their heads.
Swimbait, a minnow-like soft plastic bait that is reeled like a plug. Some have swimming tails.
Spoon lures resemble the inside of a table spoon. They flash in the light while randomly wobbling or darting due to their shape.
Spinnerbait, pieces of wire bent at about a 60 degree angle with a hook on the lower end and a flashy spinner mechanism on the upper end.
Trolling baits and lures are either tied with a knot, such as the improved clinch knot, or connected with a tiny safety pin-like device called a "snap" onto the fishing line which is in turn connected to the reel. The reel is attached to a rod. The motion is of the lure is made by winding line back on to the reel, by sweeping the fishing rod, jigging movements with the fishing rod, or by trolling behind a moving boat. Lures can be contrasted with artificial flies, commonly called flies by fly fishers, which either float on the water surface, slowly sink or float underwater, in imitation some form of insect fish food. However some flies, such as the trolling tandem streamer fly, are designed for trolling behind a moving boat.
Baits and lures are typically trolled at speeds up to 9 knots, though speeds up to 15 knots can be used, particularly when boats are travelling to different fishing areas. The speed at which the lure is pulled through the water impacts on the fishing success. The optimum trolling speed varies with different species of fish, with weather conditions and the time of year, and other conditions. Chinook salmon can be successfully trolled at higher speeds than more docile lake trout. For these reasons fishermen use devices that accurately track speed. Trolling motors calibrate speed more accurately than large outboard motors. Trolling plates are also used with larger motors to slow the boat to the desired speed, although some anglers experience mixed results with plates. Trolling can be effective at surprisingly low speeds. Kayaks fitted with a deck-mounted bracket for holding a rod can be paddled to troll effectively for salmon.
YOU MIGHT ALSO LIKE
BOTTOM FISHING TOUR
Start USD130/person
4 Hours Trip
Indian Ocean, South Of Bali
SHORE FISHING TOUR
Start USD75/person
4 Hours Trip
Popular Fishing Spots In Bali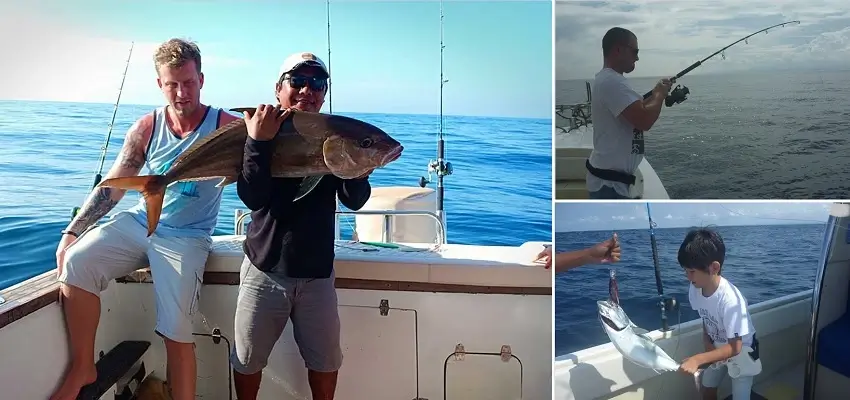 JIGGING FISHING TOUR
Start USD865/4 people
4 Hours Trip
Indian Ocean, South Of Bali