Mount Batur Sunrise Trekking Elephant Ride Tour Is One Of The Exciting Private Day Tour To Enjoy the 2 Best Adventure Of the Batur Hiking Trip And the Bali Elephant Ride Tour
Mount Batur Sunrise Trekking Elephant Ride Tour Overview
Mount Batur Sunrise Trekking Elephant Ride Tour is one of the exciting Bali Double Activities Tour Packages to enjoy the beautiful sunrise view from the top of Mount Batur and enjoy the elephant back safari ride in one day tour.
Bali Sunrise Trekking Elephant Ride Tour we designed to make a double experience on your holiday in Bali. By doing Mount Batur Sunrise Trekking Tour and Elephant Safari Ride. The Bali Double Activities Tour Package is a special package served for everyone who wants to enjoy both adventures within one day that will make a memorable experience.
The Highlights Of the Batur Hiking Elephant Ride Tour
Enjoy the wonderful sunrise view from the Top Of Mount Batur
Get closer and enjoy the Back Elephant Ride
Short Descriptions Of Bali Trekking and Elephant Ride Tour
The Mount Batur Sunrise Trekking Elephant Ride Tour will start early morning to pick you up from the hotel where you stay. Our driver will drive you to the start trekking point at Batur Village. We will arrive at the trekking start point at 04,00 am then start the 2 hours trekking to the top.
Once you reach the top, you will be amazed by the view of the volcano and the sunrise. While enjoying the scenery, our trekking guide will serve breakfast consisting of bread and eggs. We will return to the finish point after breakfast and see the stunning view. It will take about 2 hours.
Bali Mount Batur Hiking Elephant Ride Tour will continue your adventure by allowing you to ride 15 minutes of riding an elephant through the jungle and pass the local village to see the daily activities of the local community village.
After riding an elephant, you will enjoy a delicious buffet lunch with an Indonesian food menu. After lunch, we will be heading back to your hotel to bring a wonderful memory.
The 2 Top Rated Adventure Spots Will Be Explored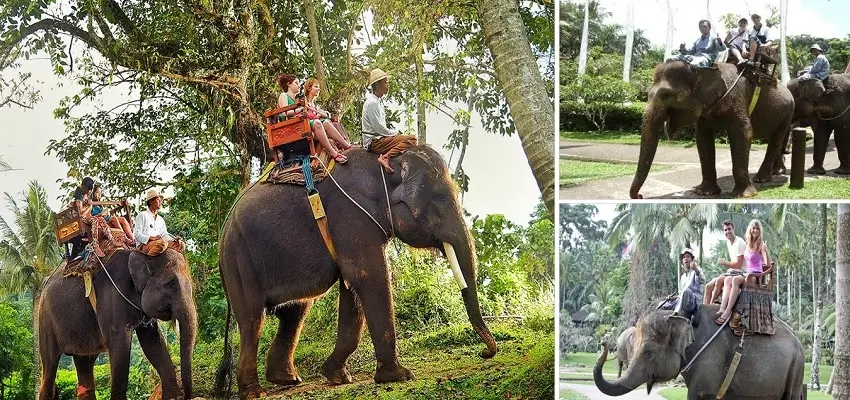 Bali Elephant Ride Adventure is one of the Bali Activities Tour Packages to enjoy riding an elephant on a teak chair like a king through a forest and riverbank. All elephants come from Sumatra. We from the tourism side want to try our best to preserve this species by making adventures in Bali. Read More > Bali Elephant Ride Tour
Mount Batur Sunrise Trekking Tour
Mount Batur Hiking Tour is one of the exciting Bali Trekking Tour Packages that offers an unforgettable morning trekking tour in Bali to see the incredible sunrise from the summit of Mount Batur. Mount Batur is one of the sacred mountains according to Hindu belief. Read More > Mount Batur Sunrise Trekking Tour
Bali Mount Batur Sunrise Trekking Elephant Ride Tour Price
US$115/person
US$100/person (Children under 12 years old)
The Payment & Cancellation Policy
The Payment Method
Online Payment: We accept payments via PayPal and will send the invoice to your email after confirming your reservation. Please note that an additional fee of 4.9% will be applied for PayPal transactions.
Cash On Arrival: Our driver accepts and collects cash payments in USD or IDR before the trip starts.
The Cancellation Policy
Cancellation: You can cancel the activity at no cost by informing us at least 48 hours in advance.
Amend Booking: Please inform us at least 48 hours before the tour start date if you need to change or postpone your booking.
Batur Hiking Elephant Ride Tour Price Inclusive Of:
Private hotel transfer with the air-conditioning vehicle
Professional English-speaking driver cum guide
Toll fee or parking fee
Safety and well maintenance Equipment
Trekking Equipment: Flashlight
Professional Trekking and Elephant Ride Tour Guide
15-minute elephant back ride
Lite Breakfast (bread) on top of Mount Batur
Lunch Indonesian Food
Batur Hiking Elephant Ride Tour Price Not Inclusive Of:
Other personal expenses
Tips and gratuities (optional)
Things You Need To Know Before Make A Reservation:
Your exact pick-up time will be confirmed in your voucher email
Minimum Order: Our tour requires a minimum of 2 participants to book.
Transportation: Free hotel return transfers in the covered areas: Kuta, Kerobokan, Legian, Seminyak, Jimbaran, Nusa Dua, Sanur, and Ubud areas. (Pick-up and drop-off in remote areas, such as Uluwatu, Pecatu, and Canggu are subject to an additional charge of US$10 per group up to 6 pax)
Age Limits: Age restrictions start from 8 years old (require that children be accompanied by an adult during the tour)
Private Trip: For our private hotel transfer service, you and your companion will be the only passengers in our vehicle.
Fair Price: Our prices are reasonable and fair, and we don't have any hidden fees. You can be confident that the price you see is the final price you will pay for your tour or transfer.
Flexible Tour: If you have your itinerary, we offer flexible tours and are happy to work with you to create a customized experience. Please contact us to discuss your options.
Should you bring: Hat, Sunglasses, Sunscreen, Hiking shoes, Jacket, Long pants, and a camera
Forbidden: Please note that this trip is not recommended for pregnant women, individuals with disabilities, asthmatics, or anyone with serious medical conditions.
Mount Batur Trekking And Elephant Ride Tour Itinerary
01.00 – Pick up from your hotel (Depending on your hotel location between 1.00 – 2.30 AM)
03.30 – Arrive at the starting point of Mount Batur trekking
04.00 – Start the Mount Batur hiking adventure
06.00 – Arrive at the top of Mount Batur, enjoy sunrise and lite breakfast
07.00 – Exploring the main crater of Mount Batur
07.30 – Descending Mount Batur
09.00 – Arrive Back at the finish point
10.30 – Enjoy the elephant ride
11.00 – Elephant ride finish
11.30 – Enjoy Lunch
12.30 – Back to the hotel
Route Map Batur Hiking Elephant Ride Tour
How To Make A Reservation?
Step 1: Check Availability to our reservation staff through WhatsApp or Email
Step 2: Submit Booking, After we reconfirm the tour availability, then submit your booking form
Step 3: Booking Confirmed, After receiving your booking request, Our customer service will send you the voucher via WhatsApp or Email.
Step 4: Ready To Travel, You can show the e-voucher to our driver upon pick-up time and then complete the payment
Use this booking format below if you would like to make a booking through WhatsApp or Email
Full Name:
Nationality:
Total Person:
Phone Number:
Hotel:
Room Number:
Tour/Service Name:
Date Of Tour:
Our email may go to your spam mailbox, please check your spam mailbox if you don't receive our response immediately.
Bali Mount Batur Sunrise Trekking Elephant Ride Tour will be very comfortable with our private air conditioning vehicle. Our professional Bali Tour Driver is always outstanding and offers his best service with the information you need to make your trips convenient and enjoyable.