Tanah Lot Sunset Tour is one of the exciting Bali Half Day Tour Packages to visit Tanah Lot Temple as the most popular tourist destination in Bali with a famous breathtaking sunset view and the Tanah Lot Temple as a background.
Tanah Lot Tour is the famous half-day tour to explore the hidden beauty tourist destination in Bali island with breathtaking nature panorama view and spectacular temple.
A trip to the 

most visited and photographed temple

Visit 

Majestic Royal Temple

 of Mengwi, Taman Ayun Temple

Surround yourself with hundreds of native monkeys in the 

Monkey Forest of Alas Kedaton

Take yourself back to the 16th-century temple of 

Tanah Lot Temple

Opportunity to 

watch the sunset from rocky headlands near a temple
The first visit during Bali Half Day Tanah Lot Sunset Tour will explore the Taman Ayun Temple. Taman Ayun Temple is one of Balinese Hindu Temple was built on the flat land with a big fish pond surround it in Mengwi regency.
Tanah Lot Temple Tour will continue to visit the Alas Kedaton Temple after 30 minutes drive from Taman Ayun Temple. Alas Kedaton Temple is a Balinese Hindu temple in a small protected forest area that has an area of ​​approximately 12 hectares. Besides there are lots of trees, you will see many monkeys around the forest area.
Tanah Lot Tour will continue to visit the most popular tourist destination in Bali is Tanah Lot Temple. Tanah Lot Temple is a beautiful Hindu temple located on a small rock in the sea and has a magnificent view of the sunset.
Tanah Lot Temple has always been a magnet for tourists to enjoy stunning sunsets and see other tourist objects such as the Sacred Snake which is located opposite the Tanah Lot Temple and the holy water which is located under the Tanah Lot Temple.
All About Bali Half Day Tanah Lot Temple Sunset Tour
Price
Itinerary
Terms
Booking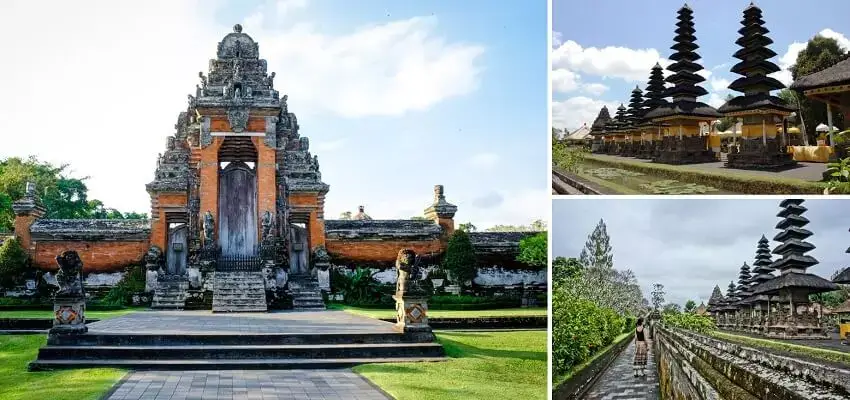 Taman Ayun Temple is a very beautiful Hindu temple uniquely designed with a distinctive style of Balinese architecture and surrounded by a large fishpond that looks like floating on the water. Taman Ayun Temple is featured by the unique shape of temple building with towering tiers style decorated with Balinese ornaments with high artistic values that gives the sacred for its temple. Also well known as a Royal Mengwi
Alas Kedaton Temple is a small forest located in the middle of a rice field and dwelt by a group of monkeys. It is a good habitat for wild animals like monkeys, bats, and birds. In the middle of the forest, you will find a Balinese Hindu Temple called Alas Kedaton Temple where according to the resident that this monkey has taken care of and protect the temple from bad influence. The total size of the Kedaton forest, temple, and its
Tanah Lot Temple is very famous among Bali tourist attractions with a spectacular sunset view. At some nooks of coral reef around the temple, there is a holy tame snake in black and white color where according to the local society believe that it as a deity property and as the guard of the temple from the bad influence. We will find the temple floating on the seawater when the water is going tide because this temple will be surrounded by
Tanah Lot Temple Sunset Point On Google Maps
Read Also: Ubud Tanah Lot Tour – Bali Half Day Tour
---
Tanah Lot Sunset Tour will be completely enjoyable using our private full air conditioning vehicle and accompanied by our professional Bali Tour Driver.