Tanah Lot Sunset Tour Is One Of The Exciting Bali Half Day Tour Packages To Offer You A Great Experience On A Short Day Trip To Explore Tanah Lot Temple And See The Stunning Sunset View.
Tanah Lot Sunset Tour Highlights
A trip to the most visited and photographed temple
Visit the Majestic Royal Temple of Mengwi, Taman Ayun Temple
Take yourself back to the 16th-century temple of Tanah Lot Temple
Opportunity to watch the sunset from rocky headlands near a temple
Tanah Lot Temple Tour Overview
Tanah Lot Sunset Tour is one of the exciting Bali Half Day Tour Packages to visit Tanah Lot Temple, the most popular tourist destination in Bali, with a famous breathtaking sunset view and the Tanah Lot Temple as a background. Tanah Lot Tour is a famous half-day tour to explore the hidden beauty tourist destination on Bali island with breathtaking nature panorama views and spectacular temples.
The first visit during the Bali Half-Day Tanah Lot Sunset Tour will explore the Taman Ayun Temple. Taman Ayun Temple is one of the Balinese Hindu temples that was built on flat land with a big fish pond surrounding it in Mengwi regency. The Tanah Lot Tour will continue to visit the most popular tourist destination in Bali, the Tanah Lot Temple. Tanah Lot Temple is a beautiful Hindu temple located on a small rock in the sea and has a magnificent view of the sunset.
Tanah Lot Temple has always been a magnet for tourists to enjoy stunning sunsets and see other tourist objects such as the Sacred Snake, which is located opposite the Tanah Lot Temple, and the holy water, which is located under the Tanah Lot Temple.
Read Also: Denpasar City Tour
Bali Tanah Lot Tour Price
IDR 550,000/person
IDR 425,000/person (3–9 years old)
The minimum booking is two participants
The Payment and Cancellation Policy
Payment Method
1. Cash On Arrival: Cash payments will be collected by the driver upon pick-up
2. Bank Transfer Payment: We accept payments via bank transfer
3. Online Payment: We accept online payments via PayPal, and an additional fee of 4.9% of the total transaction will be charged.
Cancellation Policy
1. If you cancel the tour 48 hours before the departure date, there is no cancellation fee.
2. If you cancel within 47 hours or up to 24 hours, you will be charged 50% of the price.
3. If you cancel for less than 24 hours or no-show, you will be charged 100% of the price.
Tanah Lot Tour Price, Inclusive of:
Entrance fees at all tourist destinations, as mentioned
Private hotel transfer with an air-conditioned vehicle
Professional English-speaking driver
Parking fees and Toll fees
Bottled water
Tanah Lot Tour Is Not Inclusive Of:
Other personal expenses
Tips and gratuities (optional)
Things You Need To Know:
Your exact pick-up time will be confirmed in your voucher email.
If the trip is canceled due to poor weather, you will be given the option of visiting another site at no additional charge
You should wear clothing that covers your shoulders and knees as a sign of respect when visiting the Temple
Here is the latest information about the Sunset Time In Tanah Lot and The Weather In Tanah Lot
Read Also: Ubud Tour
Tanah Lot Sunset Tour Itinerary
14.30: Pick up at the hotel
15.30: Visit Taman Ayun Temple
17.00: Visit Tanah Lot Temple
18.30: Transfer back to the hotel
Read Also: Ubud And Tanah Lot Tour
Route Map Bali Half Day Tanah Lot Sunset Tour
Read Also: Uluwatu Sunset Tour
The Tourist Attractions Will Visits During Tanah Lot Tour
Taman Ayun Temple is a very beautiful Hindu temple uniquely designed with a distinctive style of Balinese architecture and surrounded by a large fishpond that looks like floating on the water. Taman Ayun Temple is featured by the unique shape of the temple building with towering tiers style decorated with Balinese ornaments with high artistic values that give the sacred for its temple. Read More > Taman Ayun Temple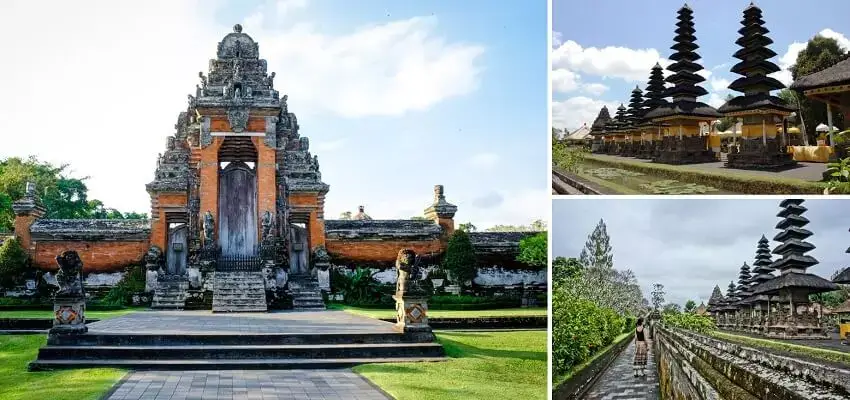 Tanah Lot Temple is very famous among Bali tourist attractions with a spectacular sunset view. In some nooks of coral reefs around the temple, there is a holy tame snake in black and white color where according to the local society believe that it is a deity's property and the guard of the temple from bad influence. We will find the temple floating on the seawater. Read More > Tanah Lot Temple
How do I make a reservation?
Check Availability with our reservation staff through WhatsApp or Email
Submit Booking, After we confirm the tour's availability, submit your booking form
Booking Confirmed, After receiving your booking request, our customer service will send you the voucher via WhatsApp or email.
Ready To Travel: You can show the e-voucher to our driver upon pick-up time and then complete the payment
Tour Reservation Form
Please Fill out The Reservation Form Below To Submit Your Booking Request Our Reservations Team Will Follow Up On Your Request As Soon As Possible
Read Also: Tanah Lot And Uluwatu Tour
Tanah Lot Sunset Tour will be completely enjoyable using our private full air conditioning vehicle and accompanied by our professional Bali Tour Driver who is outstanding beside you to give complete information as you need.