Bali ATV Ride Uluwatu Sunset Tour Is One Of The Exciting Trips To Explore The Hidden Beauty Of the Bali Islands Using a Powerful QUAD Bike And Continue Visiting The Uluwatu Temple And Others Tourist Attractions Near The Area.
Bali ATV Ride And Uluwatu Tour Highlights
Explore the hidden beauty of Bali with Quad Bike Adventure
Visit one of Bali's most famous surf spots at Padang Padang Beach.
Enjoy the breathtaking sunset view from the Uluwatu Temple.
Enjoy the show Kecak and Fire Dance Performance as one of the episodes of Ramayana, complete with powerful trance chanting and choreography with fire.
Bali ATV Ride and Uluwatu Tour Description
Bali ATV Ride Uluwatu Tour is one of the best Bali Combination Tour Packages to enjoy a QUAD Bike Ride through the rice paddy and pass the local village during the ride and then continue to visit one of the popular tourist destinations to Uluwatu Temple in the south of Bali island.
First, you will explore remote trails and local villages and rivers on an ATV bike. It's a great adventure to see the panorama of nature on the riding ATV bike adventure. Then the tour continues for lunch with Indonesian food at a local restaurant. After lunch finishes, we will directly go to visit Padang Padang Beach. Padang Padang Beach is one of the best surf spot beaches in south Bali.
Bali ATV Ride and Uluwatu Tour will continue to visit the Uluwatu Temple. Uluwatu Temple looks unique because the location is on a cliff 70 meters high above sea level, and has a remarkable view of the Indian Ocean. You can see hundreds of monkeys roaming around the temple, and make sure to keep your shiny materials.
Then we will walk 5 minutes to the open-air theater to see the famous Kecak and Fire Dance Performance near the Uluwatu Temple. After the Kecak Dance Performance finish, we will escort you back to your hotel with bring fascinating moment during this Riding ATV bike and Uluwatu Temple Tours.
Bali ATV Ride and Uluwatu Tour Price
US$75/person
US$60/person (Children 7 – 10 years old)
The Payment & Cancellation Policy
The Payment Method
Online Payment: We accept payments via PayPal and will send the invoice to your email after confirming your reservation. Please note that an additional fee of 4.9% will be applied for PayPal transactions.
Cash On Arrival: Our driver accepts and collects cash payments in USD or IDR before the trip starts.
The Cancellation Policy
Cancellation: You can cancel the activity at no cost by informing us at least 48 hours in advance.
Amend Booking: Please inform us at least 48 hours before the tour start date if you need to change or postpone your booking.
Bali ATV Ride Uluwatu Sunset Tour Price Inclusive Of:
Private hotel transfer with the air-conditioning vehicle
Entrance fees at all tourist destinations as mentioned
Professional English-speaking driver cum guide
1,5 – 2 hours quad biking adventure
Professional ATV ride instructor
Lunch Indonesian food
Parking fee/toll fee
Bottled water
Bali ATV Ride and Uluwatu Tour Not Price Inclusive Of:
Other personal expenses
Tips and gratuities (optional)
Things You Need To Know Before Make A Reservation:
Your exact pick-up time will be confirmed in your e-Voucher
Minimum Order: Our tour requires a minimum of 2 participants to book.
Transportation: Free hotel return transfers in the covered areas: Kerobokan, Kuta, Legian, Seminyak, Jimbaran, Nusa Dua, Sanur, Uluwatu, Pecatu, and Ungasan (Pick-up and drop-off in remote areas, such as Canggu is subject to an additional charge of US$10 per group up to 6 pax)
Private Trip: For our private hotel transfer service, you and your companion will be the only passengers in our vehicle.
Fair Price: Our prices are reasonable and appropriate, and we don't have any hidden fees. You can be confident that the price you see is the final price you will pay for your tour or transfer.
Flexible Tour: If you have your itinerary, we offer flexible tours and are happy to work with you to create a customized experience. Please contact us to discuss your options.
Should you need to bring: a Hat, Sunglasses, Sunscreen, Comfortable footwear, a Change of clothes, Cash Money, and a Camera.
Forbidden: Please note that this trip is not recommended for pregnant women, individuals with disabilities, asthmatics, or anyone with serious medical conditions.
Note:

Please pay attention to the monkeys in the Uluwatu Temple area. It is important to remove shiny materials (earrings, necklaces, hair clips, glasses, etc) which may attract their curiosity
You should wear clothing that covers your shoulders and knees as a sign of respect when visiting the Temple.
Bali ATV Ride and Uluwatu Tour Packages Itinerary
10.00 – Pick up at the hotel
11.00 – Enjoy 1,5 hours of ATV Ride Adventure
13.00 – Lunch with Indonesian food
14.30 – Lunch finish and continue the tour
16.00 – Padang Padang Beach
17.30 – Uluwatu Temple
18.00 – Watching Kecak and Fire Dance Performance
19.00 – Back to the hotel
Route Map Bali ATV Ride And Uluwatu Tour
The Popular Tourist Attractions Will Be Visited During Bali ATV Ride Uluwatu Sunset Tour
Bali ATV Ride Tour is one of the exciting Bali Activities Tour Packages that offer you a high-quality service of riding an ATV Bike or QUAD Bike for a 1,5 – 2 hours trip to a secluded track and seeing the stunning scenery along the way. You will experience a rice field perspective, River, Dragon Cave, Local Village, and Waterfall, and see daily social practice life in a village near the ATV track. The Bali ATV Ride Adventure Tour is suitable for beginners. Read More > Bali ATV Ride Tour
Padang Padang Beach is one of the popular beaches in Bali. The Beach famous surf point in Bali with great waves and a white sandy stretch 100 meters from the north to the south. This surf point is situated on a white stone hill with nature scenery of the Indian Ocean and spectacular sunset in the late afternoon that creates a romantic nuance. This beach is about 25 minutes away from Denpasar Airport or 10 minutes from Jimbaran Beach. Read More > Padang Padang Beach
Uluwatu Temple is one of the most popular tourist destinations on Bali island. Uluwatu Temple is one of the Balinese Hindu Temples located right on the petrifying hill with the crevasse existing on the right and left sides. Uluwatu Temple sits on a 70-meter-high cliff protruding above the Indian Ocean. Uluwatu Temple is one of Sad Khayangan (the 6 biggest temples in Bali) and owns a magnificent view of the Indian Ocean and a stunning sunset view as a backdrop. Read More > Uluwatu Temple Bali
Kecak Dance Performance is a spectacular traditional dance with a group of people playing this dance with a fire game. Kecak Dance is a dance performance we will visit on Uluwatu Sunset Tour. This dance is an exciting and unique performance due to the sound of Gamelan not using the normal Gamelan but using their mouth. The dancers make the compact choir with the exquisite dance movement that is one of these dance features. Read More > Kecak Dance Performance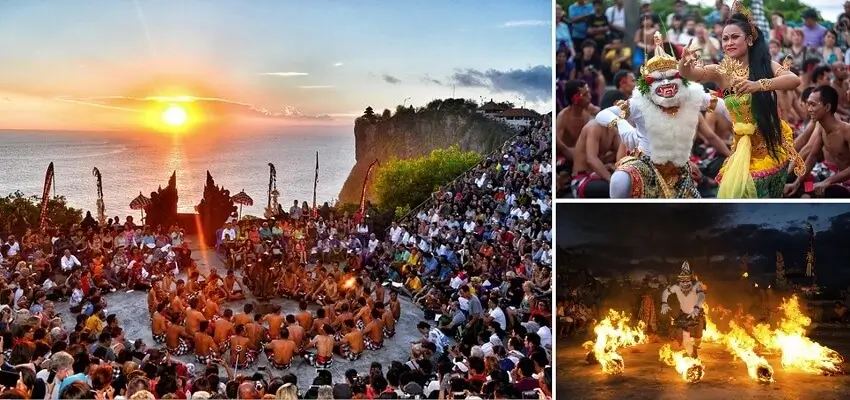 How To Make A Reservation?
Step 1: Check Availability to our reservation staff through WhatsApp or Email
Step 2: Submit Booking, After we reconfirm the tour availability, then submit your booking form
Step 3: Booking Confirmed, After receiving your booking request, Our customer service will send you the voucher via WhatsApp or Email.
Step 4: Ready To Travel, You can show the e-voucher to our driver upon pick-up time and then complete the payment
Use this booking format below if you would like to make a booking through WhatsApp or Email
Full Name:
Nationality:
Total Person:
Phone Number:
Hotel:
Room Number:
Tour/Service Name:
Date Of Tour:
Our email may go to your spam mailbox, please check your spam mailbox if you don't receive our response immediately.
The Bali ATV Ride and Uluwatu Tour will be enjoyable using our private air conditioning vehicle and accompanied by our professional Bali Tour Driver, who is outstanding beside you to give complete information.