Bali Combination Tour is one of the Bali Tour Packages we designed by Combine Sightseeing and Adventure Tour in one day to give the opportunity and impressive experience during your holiday in Bali. Bali Combination Tours Packages are a comprehensive range of tours, sightseeing, and travel guides to visit places of interest in Bali and visit the unique attractions, cultures, traditional Balinese social life, and all about tourist activities.
These packages are created to be the attractive Bali tours package that comes with the benefits like lunch, dinner, entrance tickets, etc. Bali Combination Tour will allow you to do two things do sightseeing by visiting tourism sites and continue to do activities adventure tour.
The adventure tour that combines the sightseeing tour is Bali ATV Ride, Bali Cycling Tour, Bali Elephant Ride, Bali Marine Sport, Bali Rafting, Bali Snorkeling, etc.
Never missed the opportunity we offered to you to make your holiday more impressive.
BEST SELECTIONS OF BALI COMBINATION TOUR PACKAGES
Bali Combination Tour Packages is one of the Bali tour packages to offers you a wide range of combination tours between sightseeing and adventure tours at a reasonable price and for sure is "Totally Satisfaction Guarantee" Please choose our best selection of Bali Combination Tour Packages below:
BALI RAFTING & UBUD TOUR
USD60/person (All Inclusive)
10 Hours
BALI RAFTING & TANAH LOT TOUR
USD65/person (All Inclusive)
10 Hours
BALI RAFTING & KINTAMANI TOUR
USD60/person (All Inclusive)
10 Hours
BALI RAFTING & ULUWATU TOUR
USD60/person (All Inclusive)
10 Hours
BALI RAFTING & BESAKIH TOUR
USD60/person (All Inclusive)
10 Hours
BALI SEAWALKER & UBUD TOUR
USD75/person (All Inclusive)
10 Hours
BALI SEAWALKER & ULUWATU TOUR
USD80/person (All Inclusive)
10 Hours
BALI SEAWALKER & TANAH LOT TOUR
USD80/person (All Inclusive)
10 Hours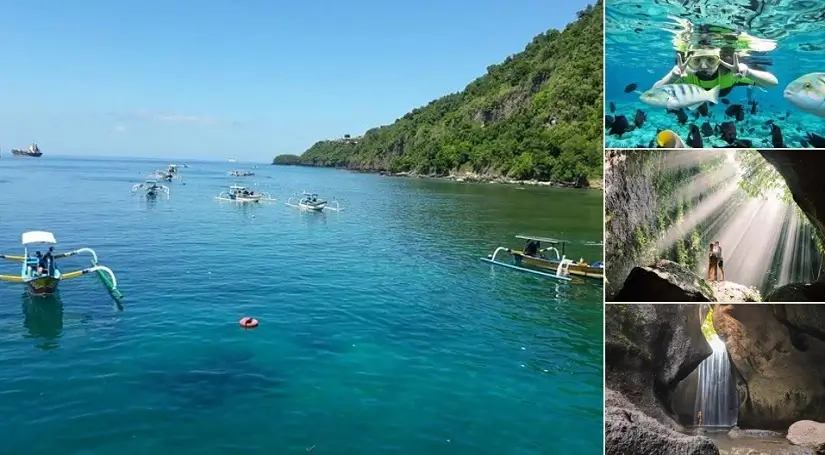 BALI SNORKELING & WATERFALL TOUR
USD65/person (All Inclusive)
10 Hours
BALI ATV RIDE & UBUD TOUR
USD85/person (All Inclusive)
10 Hours
BALI ATV RIDE & TANAH LOT TOUR
USD85/person (All Inclusive)
10 Hours
BALI ATV RIDE & ULUWATU TOUR
USD85/person (All Inclusive)
10 Hours
BALI ATV RIDE & KINTAMANI TOUR
USD85/person (All Inclusive)
10 Hours
WATER SPORTS & UBUD TOUR
USD90/person (All Inclusive)
10 Hours
WATER SPORTS & ULUWATU TOUR
USD80/person (All Inclusive)
10 Hours
WATER SPORTS & TANAH LOT TOUR
USD80/person (All Inclusive)
10 Hours
WATER SPORTS & KINTAMANI TOUR
USD85/person (All Inclusive)
10 Hours
ELEPHANT RIDE & UBUD TOUR
USD100/person (All Inclusive)
10 Hours
ELEPHANT RIDE & TANAH LOT TOUR
USD100/person (All Inclusive)
10 Hours
ELEPHANT RIDE & KINTAMANI TOUR
USD100/person (All Inclusive)
10 Hours
ELEPHANT RIDE & ULUWATU TOUR
USD100/person (All Inclusive)
10 Hours