Bali Elephant Ride and Uluwatu Tour is one of the exciting Bali Combination Tour Packages to enjoy the experience of riding an elephant at Bakas Village and continue visiting the most famous temple in the south of Bali island Uluwatu Temple Bali.
Enjoy the elephant back safari ride
Visit one of Bali's most famous surf spots at Padang Padang Beach
Enjoy the majestic sunset view from the Uluwatu Temple
Bali Elephant Ride and Uluwatu Tour will start to visit Bakas Village to enjoy the Elephant Ride through the jungle, cross the river and passed the Balinese village, are the great view from the top of the elephant and great moment too.
Then continue to visit Padang Padang Beach as one of the best surf spots beaches on south Bali. After you spend about 1 hour at the beach, the trip will continue to Uluwatu Temple.
Uluwatu Temple is one of the most crowded tourist destinations offers you a breathtaking view of the Indian Ocean from the temple. You will be excited and impressed if first time sees this temple, due Uluwatu temple located on the cliff with high 70 meters high and around the temple you will meet hundreds of monkey roaming and play each other.
Then we will escort you back to your hotel with bring fascinating moment during this Bali Combination Tour.
All About Bali Elephant Ride and Uluwatu Tour Packages
Itinerary
Price
Terms
Booking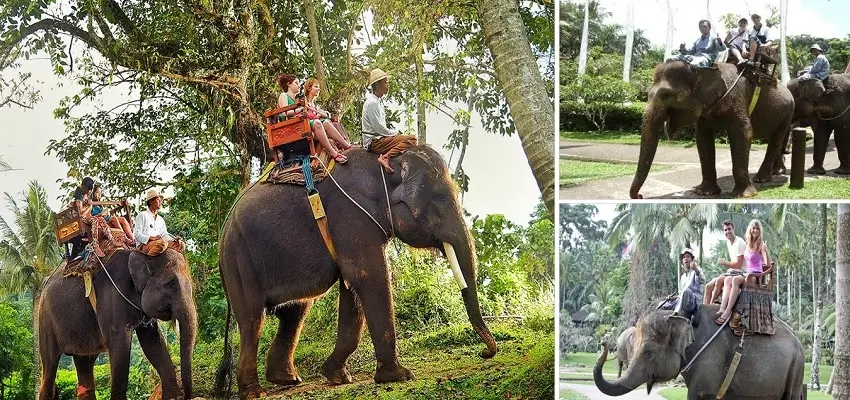 Bali Elephant Ride Adventure is one of the Bali Activities Tour Packages to enjoy riding an elephant on a teak chair like a king through a forest and riverbank. All elephants come from Sumatra. We from the tourism side want to try our best to preserve this species by making adventures in Bali. Read More – Bali Elephant Ride Tour
Padang Padang Beach is a one of Bali beaches famous surf point in Bali with the great waves and white sandy stretch 100 meters from the north to the south. This surf point is situated the white stone hill with nature scenery to the Indian Ocean and spectacular sunset at late afternoon that creates the romantic nuance. This beach is about 25 minutes away from Denpasar Airport or 10 minutes from Jimbaran Beach. Read More – Padang Padang Beach
Coffee Plantation or Bali Agro-tourism is a coffee farm where you can see the various coffee and chance to see the making process of the Coffee Luwak. At this place, you can see how to make Balinese coffee and try to taste the best of Balinese coffee or ginger tea with a green river view. Read More – Luwak Coffee Plantations
Uluwatu Temple is one of Balinese Hindu Temples located right on the petrifying hill with the crevasse exist on the right and left side. Uluwatu Temple sits on a 70-meter-high cliff protruding above the Indonesian Ocean. Uluwatu Temple is one of Sad Khayangan owns a magnificent view of the Indian Ocean and stunning sunset as a backdrop. Read More – Uluwatu Temple Bali
---
The Bali Elephant Ride and Uluwatu Tour will be completely enjoyable using our private air conditioning vehicle and accompanied by our professional Bali Tour Guide, who is outstanding beside you to give complete information.