Bali White Water Rafting is one of the exciting Bali Activities Tour Packages to the top of river adventure in Bali Island. Bali White Water Rafting Adventure Tour has a different sensation from other Bali Water Sports activities in Bali. There will be the three best river ratings on this island of Bali.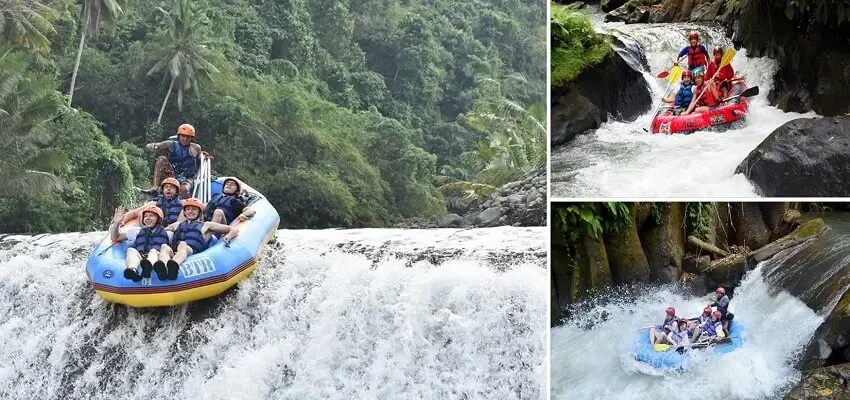 Where Is The Best Place For Bali White Water Rafting?
These kinds of questions may be crossed in your mind when you want to try white water rafting tours in Bali during your vacation. There are three best rivers for Bali White Water Rafting; Ayung River Rafting Ubud, Bakas River Rafting, and Telaga Waja River Rafting.
No. I
Telaga Waja River Rafting Tour is one of the exciting Bali Activities Tour to enjoy Bali white water rafting adventure at Telaga Waja River. Telaga Waja River is the longest challenging rafting river. Telaga Waja River is located in the eastern part of Bali, which is the best white water rafting on the island.
Read More: Telaga Waja Rafting Tour
No. II
Ayung River Rafting Tour is one of the exciting Bali Rafting Tour Packages to enjoy a rafting adventure on the wild Ayung River Ubud Bali with beautiful and high riverbanks. Ripples irrigate the river rocks, explore the nature of Bali through the river full of joy and pass through magnificent and challenging rapids is a memorable experience in your holiday in Bali.
Read More: Ayung River Rafting Tour
No. III
Bakas Levi Rafting Tour is one of the exciting Bali White Water Rafting Adventure Tour to explore the hidden beauty of Melangit River. Bakas Levi Rafting is one of the nearest river rafting from tourist destinations in south of Bali. Need 1-hour drive by car from Ngurah Rai airport to Bakas Levi Rafting. Melangit River will offer 30 rapids with a height between 1 to 4 meters.
Read More: Bakas Levi Rafting Tour
Bali White Water Rafting Levels or Classes
If you are planning a trip to Bali, or you're already there, you don't want to miss going white water rafting!! It's honestly one of the best experiences of being on this beautiful island and we would like to share some general information with you about white water rafting classes or levels of difficulty below;
Ayung River Ubud (Level of Difficulty: Class II-III / Beginner)
Telaga Waja River (Level of Difficulty: Class III-IV / Beginner)
Melangit River (Level of Difficulty: Class IV-V / Intermediate).
LEVEL 2 or CLASS II RAPIDS – Easy rapids, waves up to three feet tall that are readily seen, and wide channels that can be discovered without scouting. Some maneuvering is required during this little rock and roll.
LEVEL 3 or CLASS III RAPIDS – Waves up to four feet and narrow passages that send the boat shimmying and water gushing over it's sides. Plenty of excitement.
LEVEL 4 or CLASS IV RAPIDS – Medium waves, maybe rocks, maybe a considerable drop, sharp maneuvers may be needed. (Skill level: Exceptional rafting experience).
LEVEL 5 or CLASS V RAPIDS – Large waves, large volume, possibility of large rocks and hazards, possibility of a large drop, requires precise maneuvering.
Age Limits for White Water Rafting in Bali
Are you planning a family vacation to Bali? You have probably been examining all the options available to you, such as a trip to the beach or a quick jaunt to an amusement park, and you've settled on white water rafting.
You love the idea of spending time as a family while you do something physically challenging. Plus, you want to do something different this year, now that your kids are getting older — but what exactly is the age limit for white water rafting in Bali? Due to safety reasons the white water rafting provides in Bali set the limit of 7 to 65 years old. No child under the age of 7 is permitted to go whitewater rafting, even if their parents accompany them.
Is White Water Rafting in Bali Safe ?
Rafting is thrilling, exciting, wet, wild and unbelievably fun. However, as in all adventure sports, there is an inherent risk involved. That risk contributes to the excitement, and is one of the reasons people enjoy it so much.
Our guides are trained to minimize risks, and, statistically, you're safer on a raft than in your car. One state government found in an investigation that the injury rate for whitewater rafting is similar to that for bowling!
But still, there is a risk, and you must accept that risk when you go on the river. The most common injury is sunburn, and most other injuries occur on land, especially getting into and out of the boats.
White Water Rafting Safety Tips for Beginners
Whether on vacation or just getting out of the house to cool off, white water rafting is a fun and invigorating outdoor activity and a great way to enjoy the outdoors no matter what your ability or experience level.
White water rafting is not just for the crazy hard core mountain people anymore. This popular sport is now more main stream than ever before. No pun intended. But there are a few steps that you and your family can take to insure that your white water experience is a good one that you will look back on your experience in a positive way for years to come.
Rafting is fun! By following a couple of safety rules it can be even more enjoyable. Here are 7 safety rules that will help you and your family to enjoy the great outdoor experience known as white water rafting.
1. Always wear a life jacket, or personal flotation device (PFD)
Although just because you wear a life jacket, it doesn't mean it will save your life. It must be worn correctly. All buckles must be clipped and the jacket should be fitted snug to your body. The trick here is to have the jacket fitted so you can breathe yet the jacket should not be able to be pulled up over your head. Always have your professional guide fit your jacket. This will insure a perfect fit.
2. Be safe and comfortable. Wear the protective gear!
Always wear a helmet no matter what level of rafting you are participating in. Do not be over confident, always wear helmet period. No excuses. You will never know, when it will come handy.
3. Hold the paddle properly
Holding the paddle properly can be a huge safety concern. One hand should be at the base of the paddle on the shaft. The other hand should always be on the end of the shaft over the "T" grip. The "T" grip is made of hard plastic and can blacken eyes and knock out teeth. Keeping your hand over the "T" grip will keep control of the paddle and cushion the blow if it should happen. Ask your professional commercial guide for the proper technique.
4. Position yourself properly on the raft
You need to properly balance yourself in the raft. Most of the times, you should stay at the outer rim of the raft for balance, with your feet placed lightly under the air tube.
5. Get ready to swim, if in trouble
Even with best precautions, you may find yourself in the water so if you know how to swim, be ready to swim. Always look for guide's cues in case you fall into the water.
6. Paddle together
Rafting is a group effort, do not try on paddling harder but work together as a team for smooth unison paddling. Front rafters need to watch each other and maintain the sync while everyone else has to follow their leads.
7. Follow your guide
This is the most important one. Your guide will always know better than you. They know the rivers that they run. They will tell you how and when to paddle, where to swim in case you fall out. So remain alert and always keep an ear open for your guide's instructions.
If you follow these advises, you will certainly be safer. Our team has been conducting white water rafting in Bali safely for several years.
What should You carry for river rafting in Bali
If you are joining a white water rafting, you have a shorter list of "to bring" items than if you are on a private trip.
Quick dry shorts/bathing suit
Synthetic shirt for warmth and sun protection
Sturdy footwear – sandals with straps (no flip-flops), sneakers, wetsuit boots
Hat with brim to protect face from sun
Sunglasses with retainer strap
Avoid all cotton clothing, as cotton gets cold when wet
Set of dry clothes, shoes and socks
Bag for wet clothes
Best time for White Water Rafting in Bali
Bali White Water Rafting is definitely a unique experience due to its awesome scenery. For most convenient rafting is during dry season between (May to September). But during the wet season (between October to April) choose Ayung river as it is the safest river which located in close vicinity to the most tourist centres! However, keep in mind that during the wet season the class of some rivers rises up to IV, and it might be quite dangerous.