Telaga Waja Rafting Elephant Ride Tour is one of the exciting Bali Double Activities Tour Packages to enjoy 3 hours of Bali white water rafting at Telaga Waja River and 15 minutes elephant back ride at Bakas Village. Telaga Waja Rafting Elephant Ride Tour is suitable for adventure lovers.
Enjoy the longest white water rafting track at Telaga Waja River
Get closer to the biggest mammal at Bakas Elephant Park
The Telaga Waja Rafting Elephant Ride Tour program begins with Telaga Waja Rafting in the morning. Our driver will pick you up at 8 am from your hotel. Then drive you to the rafting location in Redang Karang Asem (approximately 2 hours drive from Kuta).
You will spend almost 3 hours on the rafting activities. There will be a professional rafting guide on each boat to ensure your safety and get a pleasant rafting experience. At the rafting finish point, you can take a shower, change clothes, and have lunch.
After the rafting program, our driver will drive you to the Elephant Park location in Bakas Village (it is about 1 hours drive). In this program, you will enjoy an elephant back safari ride for 15 minutes. You will go along the green bush on the riverbank. During the trip, you can enjoy the beautiful green hills, and sometimes you can see some wild animals such as monkeys and various species of birds.
Telaga Waja River Rafting is one of Bali Rafting Spots located in the eastern part of Bali as the best white water rafting on Bali island. Telaga Waja River is the longest & challenging river rafting, about 14km finish in 2,5 hours with water grade class III & IV. While pedaling on the rafting, enjoy the beautiful panorama of mountains, rice fields, and rock cliffs along the river, with the chirping of birds flying freely in nature. Read More – Telaga Waja River Rafting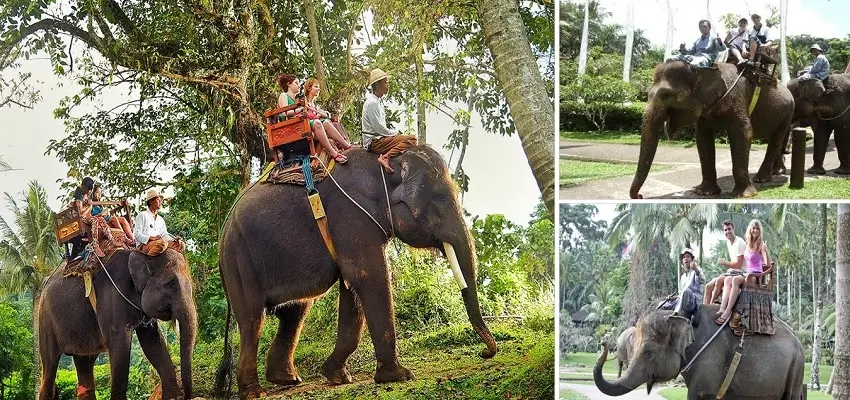 Bali Elephant Ride Adventure is one of the Bali Activities Tour Packages to enjoy riding an elephant on a teak chair like a king through a forest and riverbank. All elephants come from Sumatra. We from the tourism side want to try our best to preserve this species by making adventures in Bali. Read More – Bali Elephant Ride Tour
All About Telaga Waja River Rafting and Elephant Ride Tour
Price
Itinerary
Terms
Booking
Telaga Waja Rafting Elephant Ride Tour will be very comfortable with our private air conditioning vehicle. Our professional Bali Tour Driver is always outstanding offers his best service with the information you need to make your trips convenient and enjoyable.