Bali Elephant Ride Tanah Lot Tour Is One Of The Exciting Combination Tour Packages To Enjoy Riding An Elephant For 15 Minutes And Then Enjoying The Tourist Attraction of Tanah Lot Temple Bali.
Bali Elephant Ride and Tanah Lot Tour Highlights
Enjoy the elephant back safari ride
A trip to the most visited and photographed temple
Visit the Majestic Royal Temple of Mengwi, Taman Ayun Temple
Surround yourself with hundreds of native monkeys in the Monkey Forest of Alas Kedaton
Take yourself back to the 16th-century temple of Tanah Lot Temple
Opportunity to watch the sunset from rocky headlands near the temple
Short Descriptions Of Bali Elephant Ride Tanah Lot Tour
Bali Elephant Ride and Tanah Lot Tour is one of the exciting Bali Combination Tour Packages to offer you the Enjoyment rides an Elephant at Bakas Village and continue visiting the famous Tanah Lot Temple. This opportunity offers you to enjoy two different experiences during your holidays. The first is the chance to ride the biggest mammals on Bali island. Second, a chance to explore some popular tourist destinations in Bali.
Bali Elephant Ride and Tanah Lot Tour will visit Bakas Village at Klungkung Regency to enjoy the elephant back ride through the bushes and pass the local village. After the ride, you will enjoy lunch at Elephant park in Bakas village. Then the tours continue visiting Taman Ayun Temple in Mengwi Regency. Taman Ayun Temple is the royal family temple of the Mengwi kingdom.
Bali Elephant Ride and Tanah Lot Tour continue to visit the Alas Kedaton Temple. Alas Kedaton is a small rainforest with a Balinese Hindu temple inside the forest with thousand of monkeys dwelling there.
Then the tour continues to visit Tanah Lot Temple. Tanah Lot Temple is one of the most popular tourist places in Bali. The temple looks stunning and has a sunset view as a background. And then our driver will escort you back to the hotel. Then the tour is finished.
The Popular Tourist Attractions Will Be Visited
Bali Elephant Ride Adventure is one of the Bali Activities Tour Packages to enjoy riding an elephant on a teak chair like a king through a forest and riverbank. All elephants come from Sumatra. We from the tourism side want to try our best to preserve this species by making adventures in Bali. Read More > Bali Elephant Ride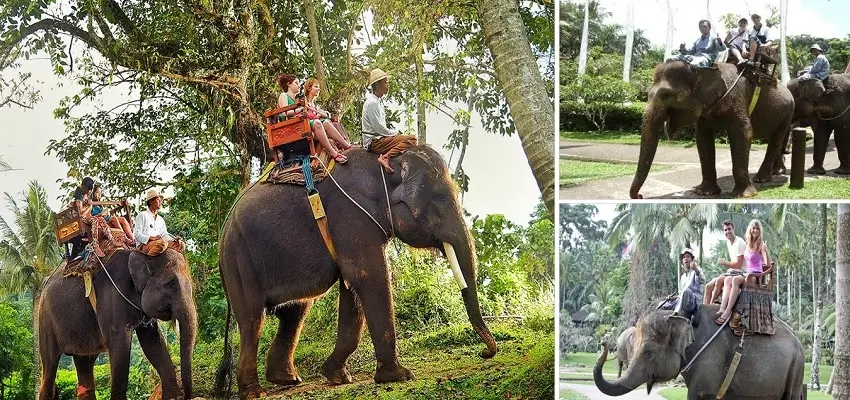 Taman Ayun Temple is a very beautiful Hindu temple uniquely designed with a distinctive style of Balinese architecture and surrounded by a large fishpond that looks like floating on the water. Taman Ayun Temple is featured by the unique shape of the temple building with towering tiers style decorated with Balinese ornaments with high artistic values that gives the sacred to its temple. Read More > Taman Ayun Temple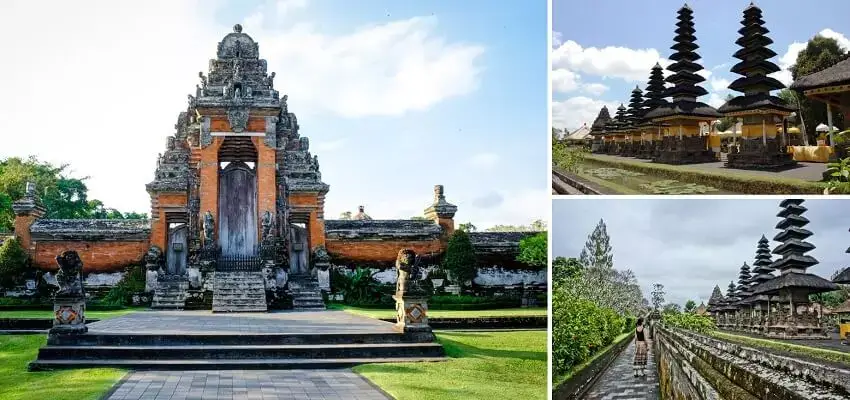 Alas Kedaton is one of the popular tourist destinations in Bali. It is a small rainforest inhabited by monkeys surrounded by rice fields. It is a perfect habitat for wild animals like Birds, Bats, and Monkeys. In the middle of the forest, you will find a Balinese Hindu Temple called Alas Kedaton Temple. According to residents, these monkeys have guarded and protected the temple from bad influences. Read More > Alas Kedaton Temple
Tanah Lot Temple is very famous among Bali tourist attractions with a spectacular sunset view. There is a holy tame snake in black and white color at some nooks of coral reef around the temple. According to the local people believe that is the guard of the temple from bad influence. We can see the temple floating on the seawater when the water is going to tide. Read More > Tanah Lot Temple
Bali Elephant Ride and Tanah Lot Tour Price
US$95/person > (Adults)
US$85/person > (Children 8-10 years old)
The Payment & Cancellation Policy
The Payment Method
Online Payment: We accept payments via PayPal and will send the invoice to your email after confirming your reservation. Please note that an additional fee of 4.9% will be applied for PayPal transactions.
Cash On Arrival: Our driver accepts and collects cash payments in USD or IDR before the trip starts.
The Cancellation Policy
Cancellation: You can cancel the activity at no cost by informing us at least 48 hours in advance.
Amend Booking: Please inform us at least 48 hours before the tour start date if you need to change or postpone your booking.
Bali Elephant Ride and Tanah Lot Tour Price Inclusive Of:
Private hotel transfer with the air-conditioner vehicle
Professional English-speaking driver cum guide
Entrance fees at all tourist destinations as mentioned
15-minute elephant ride at Bakas Elephant Park
Parking fee/toll fee
Lunch Indonesian food at Bakas Restaurant
Bottled water
Bali Combination Tour Price Not Inclusive Of:
Other personal expenses
Tips and gratuities (optional)
Things You Need To Know Before Make A Reservation:
Your exact pick-up time will be confirmed in your e-Voucher
Minimum Order: Our tour requires a minimum of 2 participants to book.
Transportation: Free hotel return transfers in the covered areas: Kerobokan, Kuta, Legian, Seminyak, Jimbaran, Nusa Dua, Sanur, Keramas, Canggu, and Ubud areas. (Pick-up and drop-off in remote areas, such as Uluwatu, Pecatu, and Ungasan are subject to an additional charge of US$10 per group up to 6 pax)
Private Trip: For our private hotel transfer service, you and your companion will be the only passengers in our vehicle.
Fair Price: Our prices are reasonable and appropriate, and we don't have any hidden fees. You can be confident that the price you see is the final price you will pay for your tour or transfer.
Flexible Tour: If you have your itinerary, we offer flexible tours and are happy to work with you to create a customized experience. Please contact us to discuss your options.
Should you need to bring: a Hat, Sunglasses, Sunscreen, Comfortable footwear, towels, a Change of clothes, Cash Money, and a Camera.
Forbidden: Please note that this trip is not recommended for pregnant women, individuals with disabilities, asthmatics, or anyone with serious medical conditions.
Note:

Please pay attention to the monkeys at the Alas Kedaton Temple area. It is crucial to remove shiny materials (earrings, necklaces, hair clips, glasses, etc) which may attract their curiosity
You should wear clothing that covers your shoulders and knees as a sign of respect when visiting the Temple.
Bali Elephant Ride and Tanah Lot Tour Itinerary
09.30 – Pick up at the hotel
10.30 – Enjoy Elephant Ride Adventure
12.00 – Enjoy Lunch at Bakas Resto
14.00 – Taman Ayun Temple
14.30 – Alas Kedaton Temple
15.30 – Tanah Lot Temple
16.30 – Back to the hotel
Route Map Bali Elephant Ride Tanah Lot Tour
How To Make A Reservation?
Step 1: Check Availability to our reservation staff through WhatsApp or Email
Step 2: Submit Booking, After we reconfirm the tour availability, then submit your booking form
Step 3: Booking Confirmed, After receiving your booking request, Our customer service will send you the voucher via WhatsApp or Email.
Step 4: Ready To Travel, You can show the e-voucher to our driver upon pick-up time and then complete the payment
Use this booking format below if you would like to make a booking through WhatsApp or Email
Full Name:
Nationality:
Total Person:
Phone Number:
Hotel:
Room Number:
Tour/Service Name:
Date Of Tour:
Our email may go to your spam mailbox, please check your spam mailbox if you don't receive our response immediately.
The Bali Elephant Ride and Tanah Lot Tour will be completely enjoyable using our private air conditioning vehicle and accompanied by our professional Bali Tour Guide, who is outstanding beside you to give complete information.