Telaga Waja River Rafting Tour Is One Of The Exciting Rafting Tour Packages To Offer You A Amazing Experience On White Water Rafting At Telaga Waja River.
Telaga Waja River Rafting Overview
Telaga Waja River Rafting Tour is one of the exciting Bali Rafting Tour Packages to enjoy white water rafting adventure at Telaga Waja River. Telaga Waja River is the longest challenging rafting river and is located in the eastern part of Bali, which is the best white water rafting on the island. This activity is completed 16 km distance in around 2.5 hours.
Telaga Waja River is the main river used because it is one of the best rivers in Bali has various characteristics for rafting activities with gradations between 3 and 4. You can enjoy the beautiful panorama of the mountains, rice fields, and stone cliffs along the streamline, with the birds chirping that fly freely in nature.
In some parts, you will experience the splash from the waterfall. You will no doubt be amazed and satisfied in exploring this beautiful river. Therefore, you also give some contributions to preserving the nature of Telaga Waja river rafting.
Telaga Waja Rafting Highlights
Go on Bali's 1# Bali white water rafting of Telaga Waja River rafting
Rushing past obstacles, narrow gorges & beautiful scenery
River with torrents, twists, tight turns & inclined rapids
Epic whitewater rafting down Class II, Class III, and Class IV rapids
Chance to swim in a tranquil pool surrounded by jungle
Tasty buffet lunch in a scenic setting with stunning views
Telaga Waja River Rafting Tour Description
Get picked up from your hotel and ride in air-conditioned comfort to the banks of the Telaga Waja River. Upon your arrival at starting point of Telaga Waja River Rafting, you receive a welcome drink, then complete a training session, learning paddle techniques, safety information, and tips.
Spend some time going over basic paddling techniques and safety precautions with your rafting guide, and find a life jacket that fits well before grabbing your paddle and heading toward the water.
Push off from the shore and start your white water river adventure, navigating white water bends and rocky obstacles with minute-by-minute instructions from your trip leader.
This exciting adventure takes you through the 16km of the Telagawaja's white water rapids, a medium route for rafting enthusiasts that remains suitable for beginners and families (so long as you have a taste for adventure!). From the moment you drop into the first set of rapids, your heart and adrenaline start pumping.
A never-ending spray of white water blasts your face as you fly past steep banks and ancient trees clinging to the cliffside. Your rafting guides instruct and work with you to navigate the boat through torrents, twists, tight turns, and inclined rapids. Overhead obstacles, narrow gorges, and breathtaking views of terraced rice plains set the stage for a magnificent climax. Up ahead – the water dam! Hold on, take a deep breath, and down you go.
During the rafting, you'll pass some bamboo bridges and waterfall, and the last action will slide 4 meters high at Bajing Dam. At the end of your trip, paddle to shore and grab a quick shower while your guide helps put the finishing touches on a savory buffet lunch of Indonesian specialties. After you clean up and dry off, tuck into this tasty spread and relax by the water before you catch a lift back to your hotel.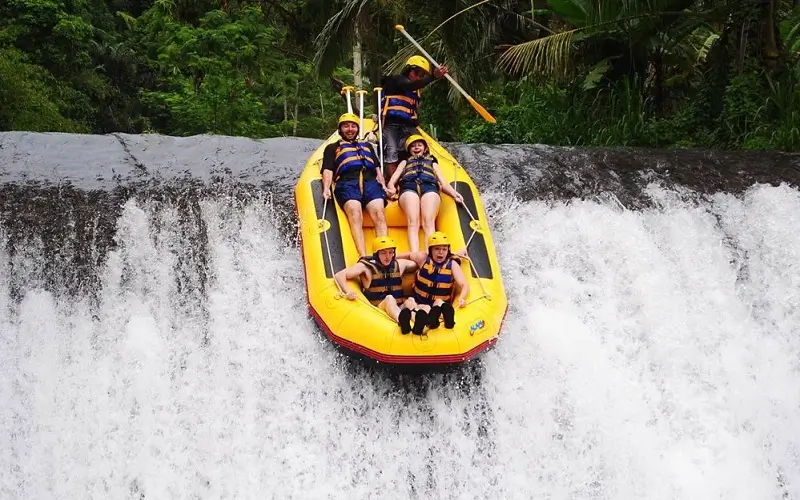 Telaga Waja Rafting Price
US$45/person (Private Transport)
US$30/person (Own Transport)
Note:
Private Transport means there is no other participant in your car, just only you and your companion.
Own Transport Trip means RAFTING TICKET ONLY, the participant will come to the Telaga Waja River Rafting location by bike or your driver, then we will share with you the rafting company location for meet up on the day of the activity.
Get Our Best Offers Today!
Reserve now and pay later at the location
Free cancellation up to 24 hours in advance
Secure your spot while staying flexible
The price is valid only this week!
Telaga Waja River Rafting Price Inclusive Of:
Hotel transfers with Air-Conditioning vehicle
International standard rafting equipment
Professional instructors and river guide
A dry bag will be provided to keep your camera or another item dry while rafting.
Lunch Indonesian Food buffet style
Towel
Shower and Toilet Facilities
USD 50,000 Insurance Coverage
Telaga Waja Rafting Price Trip Not Inclusive Of:
Personal expense
Gratuities (optional)
Should You Need To Bring:
Rafting outfit IT-shirt, short pants or swimsuit, river sandals!
A change of clothes for use after the activities sun Screen
Money for drinks in the restaurant
If you want to purchase a picture or video of your rafting, please bring some money.
Telaga Waja River Rafting Tour Itinerary
Telaga Waja River Rafting has two sessions, morning session and afternoon session. And different pickup schedules based on your location and area. But we recommend you choose the morning session as we know the river in the morning is still clear and fresh.
Morning Session Pick-up
07.00 – 07.15 AM | Nusa Dua and Jimbaran area
07.30 – 07.45 AM | Jimbaran, Kuta, Seminyak, Sanur area
09.09 – 09.15 AM | Candidasa area
08.30 – 08.45 AM | Ubud area
Afternoon Session Pick-up
11.00 – 11.15 AM | Nusa Dua and Jimbaran area
11.30 – 11.45 AM | Jimbaran, Kuta, Seminyak, Sanur area
12.30 – 12.45 PM | Candidasa area
12.30 – 12.45 PM | Ubud area
The Location Of Telaga Waja Rafting Bali On Google Maps
Telaga Waja River Rafting Bali is located at Muncan Village, Rendang District, Karangasem Regency. This area can be reached within approximately 1,5 hours from Denpasar, Kuta, and Seminyak by car. Various rafting companies operate along this river, each with different starting and finish points. At Bali Green Tour, we only provided you with the best and most Reliable Rafting Companies like BMW Rafting and Alam Bali Rafting as #1 Bali white water rafting.
Terms & Conditions Of Telaga Waja River Rafting Bali
Price is per person for minimum booking is 2 participants.
Afternoon Rafting Minimum 4 person for free return transfer
Age restricted from 9 – 60 years old
All prices are per person and all-inclusive: Hotel returns transfer with an air-conditioning vehicle, light meal, safety equipment, USD 50.000 insurance cover, welcome drink at the start point, towel usage, changing room and shower, Government tax.
The concession rate can apply for group bookings.
A cancellation fee of 100% of the list price will apply if the tour is canceled on the same day.
How To Make A Reservation?
Step 1: Check Availability to our reservation staff through WhatsApp or Email
Step 2: Submit Booking, After we reconfirm the tour availability, then submit your booking form
Step 3: Booking Confirmed, After receiving your booking request, Our customer service will send you the voucher via WhatsApp or Email.
Step 4: Ready To Travel, You can show the e-voucher to our driver upon pick-up time and then complete the payment
Use this booking format below if you would like to make a booking through WhatsApp or Email
Full Name:
Nationality:
Total Person:
Phone Number:
Hotel:
Room Number:
Tour/Service Name:
Date Of Tour:
Our email may go to your spam mailbox, please check your spam mailbox if you don't receive our response immediately.
You Might Also Like
Ayung River Rafting
Start USD30/person
7 Hours
Bakas Levi Rafting Tour
Start USD30/person
7 Hours
Rafting & Besakih Tour
USD60/person (All-Inclusive)
10 Hours