Trip Duration
6 to 7 Hours
Jatiluwih Cycling Tour Is One Of The Exciting Bali Cycling Tour Packages Enjoy The Bike Ride Tours To See The Stunning View Of Jatiluwih Rice Terrace On Bali Island.
Jatiluwih Cycling Highlights
Feel the experience of a Bali bike ride to the famous Jatiluwih rice terrace on Bali Island.
A chance to see the world heritage site of Jatiluwih Rice Terrace, the most beautiful terraced rice paddies in Bali.
A chance to visit Besikalung Temple, the historical temple in Jatiluwih Village
Jatiluwih Cycling Overview
Jatiluwih Rice Paddy Cycling Tour is one of the most popular Bali cycling tour packages to enjoy bike tours to see the stunning scenery of the Jatiluwih rice terrace. After warming up, the journey will start on a planned route accessible to everyone with basic cycling skills. It is suitable for different abilities and ages, such as for unchallenging and more challenging routes that pass through the same landmarks.
On the Jatiluwih Rice Paddy Bike Tour, you will have the chance to see how the village lives. Including rice field and vegetable farming, ceremonies, and family life. You'll learn how to grow rice and how it's cultivated and harvested by the local farmers. Stop at your leisure for photos to experience the magnificent views and surroundings. Then enjoy refreshments while taking pictures of the breathtaking views.
And stop at the Besikalung Temple. This temple is in the middle of a protected forest. Inside the temple, there are remains from the prehistoric era of the Megalithic Tradition, in the form of stones arranged to resemble a terrace (Pundan Berundak). The Luhur Besikalung temple was founded in the IX–XII centuries AD. The material used is a natural stone that is flat and round.
The area of Jatiluwih is not so well known, and there are not that many people who come out and witness this area. As part of the eco-tourism project that is growing in Bali. Jatiluwih is not only an environmentally friendly activity but also a tour method. It is a way to introduce a little money to the local businesses without destroying that area or the culture.
Jatiluwih Rice Terrace is one of the most famous tourist attractions in Bali. It is popular for the stunning view of a green rice paddy along with the village. Jatiluwih, with its wonderful landscape view, Jatiluwih is a World Heritage Site by UNESCO. We offer the Jatiluwih cycling trip to enjoy this beautiful landscape of rice terraces with the professional Bali cycling guide recommended by the Tripadvisor site.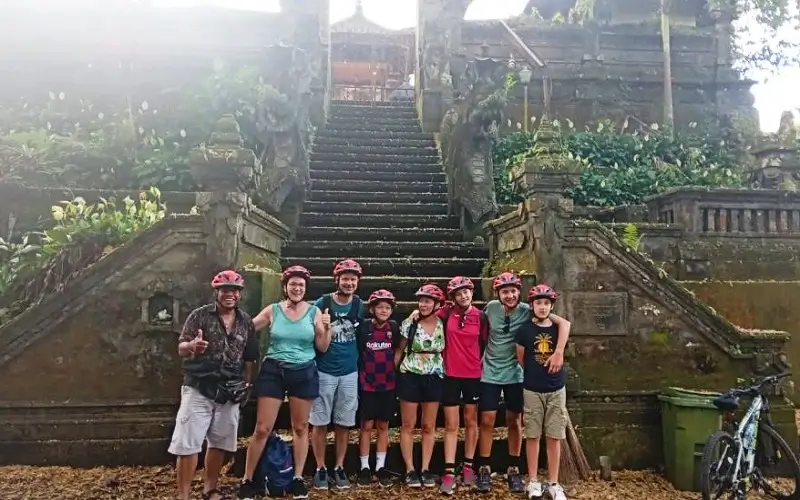 Read Also: Kintamani Cycling Tour
Jatiluwih Cycling Price
| Price/person | Number of participants |
| --- | --- |
| IDR 750,000 | 2–3 people |
| IDR 675,000 | 4–6 people |
| IDR 630,000 | 7–9 people |
| IDR 600,000 | > 10 people |
We offer the best prices based on the number of participants. Get our best deals today!
The Payment and Cancellation Policy
Payment Method
1. Cash On Arrival: Cash payments will be collected by the driver upon pick-up
2. Bank Transfer Payment: We accept payments via bank transfer
3. Online Payment: We accept online payments via PayPal, and an additional fee of 4.9% of the total transaction will be charged.
Cancellation Policy
1. If you cancel the tour 48 hours before the departure date, there is no cancellation fee.
2. If you cancel within 47 hours or up to 24 hours, you will be charged 50% of the price.
3. If you cancel for less than 24 hours or no-show, you will be charged 100% of the price.
Jatiluwih Cycling Price, Inclusive of:
Hotel transfer with air-conditioned vehicle
A high-quality mountain bike with a safety helmet
A fully trained and professional cycling guide
Lunch: Traditional dish
Bottled water
Standard documentation
Jatiluwih Cycling Price Not Inclusive Of:
Personal expense
Gratuities (optional)
You Need To Know Before Booking Jatiluwih Downhill Cycling Tour
Your exact pick-up time will be confirmed in your voucher email
This is a 100% professional operation. We have the utmost respect for your time and holiday experience. We don't compromise on quality. Your enjoyment is our top priority.
Free hotel return transfers are available in the covered Canggu, Kerobokan, Seminyak, and Kuta areas.
Pick-up and drop-off in remote areas, such as Jimbaran, Nusa Dua, Sanur, Uluwatu, Pecatu, and Ubud, are subject to an additional charge of Rp 150,000 per group up to 6 pax
Should you need to bring: Sports shoes recommended, Sunscreen advised, and a small backpack for your camera
What Do You Need To Bring During Jatiluwih Downhill Cycling Tour?
A small rucksack or backpack for easy access to video or cameras
A hat to put under your helmet is advisable
A change of clothing—short pants, a T-shirt
Wear running shoes or secure sandals
Sunscreen
Sunglasses
Read Also: Mount Batur Hiking And Kintamani Cycling Tour
Jatiluwih Mountain Bike Tours Itinerary
08.00: Pick-up from your hotel
10.30: Arrive at the restaurant (starting point: Jatiluwih Bicycle Trip)
10.30: Welcome drink, outfit the equipment, and short safety briefing
11.00: Start the Bali cycling trip (approximately 10km length)
13.00: Finish the cycling activity
13.30: Enjoy lunch (Balinese Food) at a local restaurant
14.30: Transfer back to the hotel
Note: The above itinerary is only rough timing, depending on the pickup point.
Jatiluwih Rice Terrace Location On Google Maps
The Jatiluwih Cycling Trip will start at this place and explore the stunning view along the 10-kilometer track.
Read Also: Ayung Rafting And Kintamani Cycling Tour
How do I make a reservation?
Check Availability with our reservation staff through WhatsApp or Email
Submit Booking, After we confirm the tour's availability, submit your booking form
Booking Confirmed, After receiving your booking request, our customer service will send you the voucher via WhatsApp or email.
Ready To Travel: You can show the e-voucher to our driver upon pick-up time and then complete the payment
Tour Reservation Form
Please Fill out The Reservation Form Below To Submit Your Booking Request Our Reservations Team Will Follow Up On Your Request As Soon As Possible