Jatiluwih Cycling Tour Is One Of The Exciting Bali Cycling Tour Packages To Enjoy The Bike Ride Tours To See The Stunning View Of Jatiluwih Rice Terrace In Bali Island.
Jatiluwih Cycling Highlights
Feel the experience Bali Bike Ride to the famous Jatiluwih rice terrace on Bali island.
A chance to see the world heritage site of Jatiluwih Rice Terrace, which is the most beautiful terraced rice paddies in Bali.
Jatiluwih Cycling Overview
Jatiluwih Rice Paddy Cycling Tour is one of the most popular Bali cycling tour packages to enjoy the bike tours to see the stunning scenery of the Jatiluwih rice terrace. After warming up, the journey will start to a planned route accessible to everyone with basic cycling skills. It is suitable for different abilities and ages, such as unchallenging routes and more challenging routes which pass through the same landmarks.
On Jatiluwih Rice Paddy Bike Tour you will chance to see how the village life. Include rice field and vegetable farming, ceremonies, and family life. You'll learn how to grow rice and learn how it's cultivated and harvested by the local farmers. Stop at your leisure for photos to experience the magnificent views and surroundings. Then enjoy refreshments while taking pictures of the breathtaking views.
The area of Jatiluwih is not so well known, and there are not that many people who come out and witness this area. As part of the Eco-tourism project that is growing in Bali. Jatiluwih is not only an environmentally friendly activity and tour method. It is a way to introduce a little money to the local businesses without destroying that area or the culture.
Jatiluwih Rice Terrace is one of the most famous tourist attractions in Bali, it is popular with the stunning view of a green rice paddy along with the village. With its wonderful landscape view, Jatiluwih is set as a World Heritage Site by UNESCO. We offer the Jatiluwih cycling trip to enjoy this beautiful landscape of rice terraces with the professional Bali cycling guide recommended by the Tripadvisor site.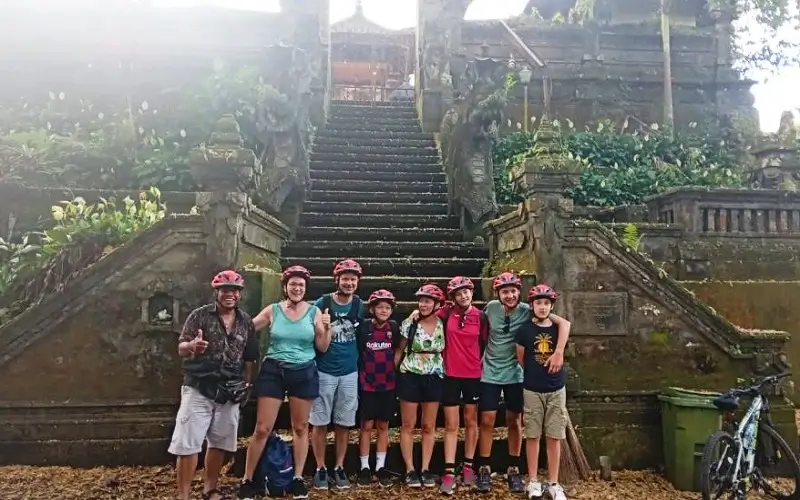 Read Also: Kintamani Cycling Tour
Jatiluwih Cycling Price
US$55/person
US$50/person
Get Our Best Offers Today!
Reserve now and pay later at the location
Free cancellation up to 24 hours in advance
Secure your spot while staying flexible
The price is valid only this week!
Jatiluwih Cycling Price Inclusive Of:
Coffee/tea break
Air-conditioned return transfer
Fully trained & professional cycling guide
International standard safety equipment
Buffet lunch + complimentary soft drink/mineral water
One complimentary mineral water during cycling
Cold face towel
Jatiluwih Cycling Price Not Inclusive Of:
Personal expense
Gratuities (optional)
Should You Need To Bring During Jatiluwih Downhill Cycling Tour
A small rucksack/backpack for easy access to video/camera
A hat to put under your helmet is advisable
Sunscreen
A change of clothing short pants, a T-shirt
Wear running shoes or secure sandals and sun-glass
Read Also: Mount Batur Hiking And Kintamani Cycling Tour
Jatiluwih Mountain Bike Tours Itinerary
08.00 – 08.15: Depart from hotel to Jatiluwih village
10.15 – 10.30: Arrive at restaurant and registration
10.30 – 10.45: Coffee break, outfit the equipment & safety talk
11.00 – 11.45: Start cycling to Kedampal Village to see rice paddy, Continue to Belulang village to look hot spring, Continue to Mangesta village to see rice paddy. The next stop is Penebel Market to see the traditional market
13.00 – 13.15: Finish cycling at Filing Village around Penebel area and drop to the Restaurant for Lunch
13.30 – 13.45: Lunch
14.30 – 14.45: Finish lunch and transfer back to the hotel
16.00 – 16.15: Arrive at Hotel
Note: the above itinerary is only rough timing would be change depend on the pickup point.
Jatiluwih Rice Terraces Location On Google Maps
Read Also: Ayung Rafting And Kintamani Cycling Tour
How To Make A Reservation?
Step 1: Check Availability to our reservation staff through WhatsApp or Email
Step 2: Submit Booking, After we reconfirm the tour availability, then submit your booking form
Step 3: Booking Confirmed, After receiving your booking request, Our customer service will send you the voucher via WhatsApp or Email.
Step 4: Ready To Travel, You can show the e-voucher to our driver upon pick up time then complete the payment
Use this booking format below if you would like to make a booking through WhatsApp or Email
Full Name:
Nationality:
Total Person:
Phone Number:
Hotel:
Room Number:
Tour Name:
Date Of Tour:
Our email may go to your spam mailbox, please check your spam mailbox if you don't receive our response immediately.