Ubud Uluwatu Tour Is One Of The Best Private Day Tour To Explore The Most Famous Tourist Destination In Ubud Village And Uluwatu Temple.
Ubud Uluwatu Tour Highlights
Explore Ubud Monkey Forest dwelt by some group of monkeys in central Ubud Bali.
Chance to visit Art Village to see handmade gold and silver jewelry in Celuk Village.
Enjoy the breathtaking sunset view from the Uluwatu Temple.
Enjoy the show Kecak and Fire Dance Performance as one of the episodes of Ramanyana, complete with powerful trance chanting and choreography with fire.
Enjoy a romantic candlelight dinner at Jimbaran Bay Beach.
Ubud Uluwatu Tour Overview
Ubud Uluwatu Tour is one of the exciting Bali Full Day Tour Packages to visit two tourist destinations in Bali, Ubud Village ( Ubud Monkey Forest), and Uluwatu Temple Bali ( Stunning Sunset View).
Places of interest will be visited during the Ubud Uluwatu Tour in Ubud Monkey Forest. Ubud Monkey Forest is a nature reserve temple complex in Ubud dwelt by some groups of monkeys and tropical animals. The Ubud Uluwatu Tour will continue to visit Celuk Village. It is a traditional village with famous gold and silver handicraft.
The Ubud Uluwatu Full Day Tour will continue to visit the Uluwatu Temple. Uluwatu Temple is a beautiful rock cliff temple facing to Indian ocean with a breathtaking sunset view. Then continue to watch Kecak and Fire Dance Performance after walking 5 minutes to the open-air theater. Kecak Dance is a traditional Balinese dance with some people making combination sounds word Cak.
After 1 hour performance, the trip will continue to the last destination Jimbaran Bay, and enjoy a romantic candlelight fresh seafood dinner at a beachside restaurant. The Ubud Uluwatu Tour will bring you a wonderful memory with experiences as the feature of this package.
Ubud Uluwatu Tour Price
US$50/person
US$65/person (with Dinner)
The minimum booking is two participants
The Payment & Cancellation Policy
The Payment Method
Online Payment: We accept payments via PayPal and will send the invoice to your email after confirming your reservation. Please note that an additional fee of 4.9% will be applied for PayPal transactions.
Cash On Arrival: Our driver accepts and collects cash payments in USD or IDR before the trip starts.
The Cancellation Policy
Cancellation: You can cancel the activity at no cost by informing us at least 48 hours in advance.
Amend Booking: Please inform us at least 48 hours before the tour start date if you need to change or postpone your booking.
Ubud Uluwatu Tour Price Inclusive Of:
Entrance fees at all tourist destinations
Free sarong to enter the temple.
Ticket for Kecak & Fire Dance Performance
Professional English Speaking Driver
Private air-conditioning vehicles include fuel.
Parking Fee
Mineral water during this trip
Candlelight Dinner at Jimbaran Bay, Beach Front Restaurant
Set Menu Seafood Package Includes: Grilled Fish (1 pcs), Grilled Sea Prawn (3 pcs), Grilled Clams (3 pcs), Squid Calamary, Steam Rice, Spinach Vegetable, Balinese Sauce Sambal Matah, and Mineral Water
The Price Not Inclusive Of:
Other personal expenses
Tips and gratuities (optional)
Things You Need To Know:
Your exact pick-up time will be confirmed in your voucher email
This activity is subject to favorable weather conditions
If the trip is canceled due to poor weather, you will be given the option of visiting another site at no additional charge
Please pay attention to the monkeys at Ubud Monkey Forest and Uluwatu Temple area. It is important to remove shiny materials (earrings, necklaces, hair clips, glasses, etc) which may attract their curiosity
You should wear clothing that covers your shoulders and knees as a sign of respect when visiting the Temple.
Ubud Uluwatu Tour Itinerary
Tour Itinerary With Dinner
11.00 – Pick up at the hotel
13.00 – Visit Ubud Monkey Forest
14.30 – Visit Celuk Village
17.30 – Visit Uluwatu Temple
18.00 – Watch Kecak Dance Performance
20.00 – Enjoy a Seafood dinner at Jimbaran Beach
21.00 – Back to the hotel
Tour Itinerary Without Dinner
11.00 – Pick up at the hotel
13.00 – Visit Ubud Monkey Forest
14.30 – Visit Celuk Village
17.30 – Visit Uluwatu Temple
18.00 – Watch Kecak Dance Performance
19.00 – Back to the hotel
Route Map Ubud Uluwatu Sunset Tour
Terms & Conditions Of Ubud Uluwatu Bali Full Day Tour
The minimum booking is 2 participants (adult price)
For solo traveling, an additional charge of 50% will apply
Children under 10 years old 50% Off and Infant under 3 years free of charge
Flexible Tour: Please feel free to contact us if you have any own itinerary
Private tour: means there is no other participant, just only you and your companion
Reasonable and fair prices (no hidden fees)
The payment method is Cash On Arrival (Payment in Indonesian Rupiah based on the latest exchange rates)
Cancellation Policy: Full refunds will be issued for cancellations made at least 24 hours prior to the activity
The Most Famous Bali Tourist Attractions Will Be Visited
Celuk Village is one of the traditional villages for the incredible gold and silver handicrafts are available around this area for very reasonable prices. The village is located in Sukawati District, Gianyar Regency. This place has uniqueness and is excellent in the production of gold and silver handicrafts. The people in this village are very famous and skillful in designing gold and silver art. Read More > Celuk Village Bali
Ubud Monkey Forest is a small rainforest dwelt by some groups of monkeys and other tropical animals. The monkey forest is located in the heart of Ubud Village. Monkey Forests in the Balinese language called Wanara Wana are spread out on Bali island. Ubud Monkey Forest itself owns a very important function in the continuity of the monkey habitat in Bali. Meanwhile, the local community has an important role to keep… Read More > Sacred Ubud Monkey Forest Sanctuary
Uluwatu Temple is one of the most popular tourist destinations on Bali island. Uluwatu Temple is one of the Balinese Hindu Temples located right on the petrifying hill with the crevasse existing on the right and left sides. Uluwatu Temple sits on a 70-meter-high cliff protruding above the Indian Ocean. Uluwatu Temple is one of Sad Khayangan (the 6 biggest temples in Bali) and owns a magnificent view of the Indian Ocean and a stunning sunset view as a backdrop. Read More > Uluwatu Temple
Kecak And Fire Dance Performance is a spectacular traditional dance with a group of people playing this dance with a fire game. Kecak Dance Is a dance performance we will visit on Uluwatu Sunset Tour. This dance is an exciting and unique performance due to the sound of Gamelan not using the normal Gamelan but using their mouth. The dancers make the compact choir with the exquisite dance movement that is one of these dance features. Read More > Kecak Dance Performance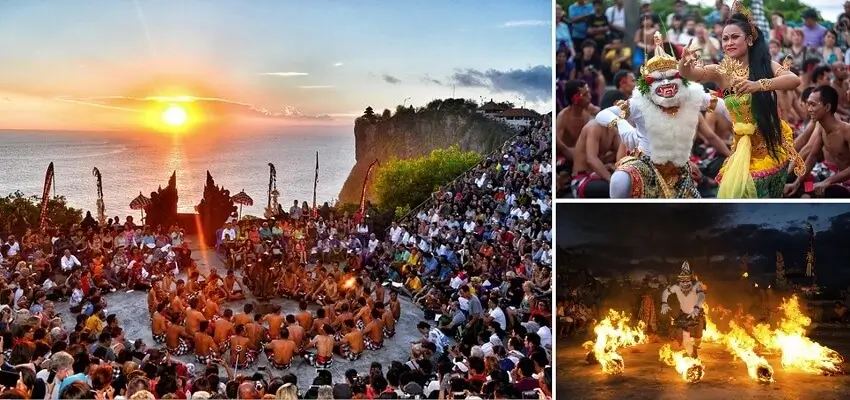 How To Make A Reservation?
Step 1: Check Availability to our reservation staff through WhatsApp or Email
Step 2: Submit Booking, After we reconfirm the tour availability, then submit your booking form
Step 3: Booking Confirmed, After receiving your booking request, Our customer service will send you the voucher via WhatsApp or Email.
Step 4: Ready To Travel, You can show the e-voucher to our driver upon pick-up time and then complete the payment
Use this booking format below if you would like to make a booking through WhatsApp or Email
Full Name:
Nationality:
Total Person:
Phone Number:
Hotel:
Room Number:
Tour/Service Name:
Date Of Tour:
Our email may go to your spam mailbox, please check your spam mailbox if you don't receive our response immediately.
The Ubud Uluwatu Tour will be completely enjoyable using our private air conditioning vehicle and accompanied by our professional Bali Tour Driver, who will standby to give you complete information.