Ubud Uluwatu Tour is one of the exciting Bali Full Day Tour Packages to visit two tourist destinations in Bali, Ubud Village ( Ubud Monkey Forest), and Uluwatu Temple Bali ( Stunning Sunset View).
Explore 

Ubud Monkey Forest

 dwelt by some group of monkeys in central of

 Ubud Bali.

Chance to visit Art Village to see handmade gold and silver jewelry in 

Celuk Village.

Enjoy the 

breathtaking sunset view

 from the Uluwatu Temple.

Enjoy the show 

Kecak and Fire Dance Performance

 as one of the 

episodes of

 

Ramanyana

, complete with powerful trance chanting and choreography with fire.

Enjoy a 

romantic candlelight dinner

 at Jimbaran Bay Beach.
Places of interest will be visiting during Ubud Uluwatu Tour is Ubud Monkey Forest. Ubud Monkey Forest is a nature reserve temple complex in Ubud dwelt by some groups of monkey and tropical animals.
The Ubud Uluwatu Tour will continue to visit Celuk Village.  It is a traditional village with famous gold and silver handicraft.
The Ubud Uluwatu Full Day Tour will continue to visit the Uluwatu Temple. Uluwatu Temple is a beautiful rock cliff temple facing to Indian ocean with a breathtaking sunset view.
Then continue to watching Kecak and Fire Dance Performance after walking 5 minutes to the open-air theater. Kecak Dance is a traditional Balinese dance with some people make combination sounds word Cak.
After 1 hour performance, the trip will continue to the last destination is Jimbaran Bay, and enjoy the romantic candlelight fresh seafood dinner at a beachside restaurant. The Ubud Uluwatu Tour will bring you to the wonderful memory with experiences as the feature of this package.
All About Bali Full Day Ubud Uluwatu Tour Packages
Price
Itinerary
Terms
Booking
Ubud Monkey Forest is a small rain forest dwelt by some groups of monkeys and other tropical animals. The monkey forest is located in the heart of Ubud Village. Monkey Forests in the Balinese language called Wanara Wana are spread out on the Bali island. Ubud Monkey Forest itself owns a very important function in the continuity of the monkey habitat in Bali. Read More – Sacred Ubud Monkey Forest Santuary
Celuk Village is one of the traditional villages for the incredible gold and silver handicrafts are available around this area for very reasonable prices. The village is located in Sukawati District, Gianyar Regency. This place has uniqueness and is excellent in the production of gold and silver handicrafts. The people in this village are very famous and skillful in designing gold and silver art. Read More – Celuk Village Bali
Uluwatu Temple is one of Balinese Hindu Temples located right on the petrifying hill with the crevasse exist on the right and left side. Uluwatu Temple sits on a 70-meter-high cliff protruding above the Indan Ocean. We will stop to visit this temple during Uluwatu Tour. Uluwatu Temple is one of Sad Khayangan owns a magnificent view of the Indian Ocean and a stunning sunset view as a backdrop. Read More – Uluwatu Temple Bali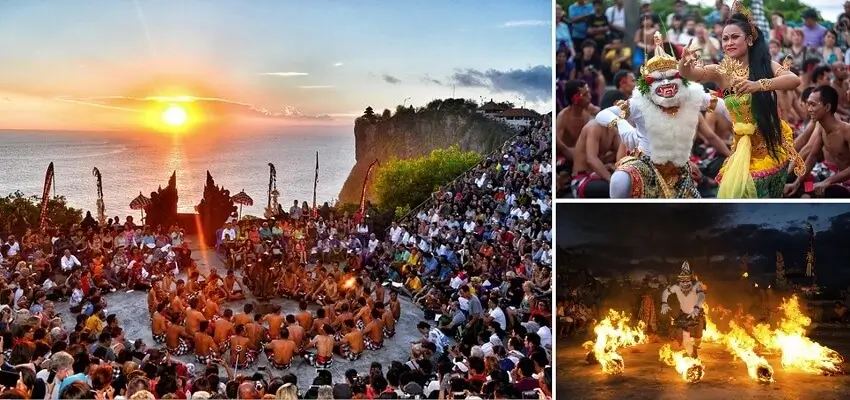 Kecak Dance is a spectacular traditional dance with a group of people playing this dance with fire game. Kecak Dance is a dance performance we will visit on Uluwatu Sunset Tour. This dance is an exciting and unique performance due to the sound of Gamelan is not using the normal Gamelan but use their mouth. The dancers make the compact choir with the exquisite dance movement that is one of these dance features. Read More – Kecak Dance Bali
Jimbaran Bay Beach is a beautiful beach located in the southern part of Bali that lays white sand unfolding along the coast. Many restaurants look brights when they set up their candlelit tables down to the edge of the water. The chefs fire up their outside kitchens and prepare their seafood menu just as carloads of hungry mouths arrive to watch the sun setting while sipping cocktails before dinner. Read More – Seafood Dinner Jimbaran Bay
---
The Ubud Uluwatu Tour will be completely enjoyable using our private air conditioning vehicle and accompanied by our professional Bali Tour Driver, will standby to give you complete information.