Hotel Transfers
Not Included
Green Bali ATV Ride Is One Of The Exciting Bali Quad Bike Adventure Tour Packages To Enjoy The Quad Biking Trip Through A Unique And Challenging Track In Ubud Bali.
ATV Green Bali Adventure Overview
Green Bali Adventure is one of the right places to visit for those of you who like to go on an ATV adventure. With a unique and challenging track, it will offer an exciting ATV ride experience. The location is in Silakarang Village, South of Ubud.
The Best ATV Ride In Ubud
ATV Green Bali Adventure is located in Silakarang Village. Here, you will get an exciting and thrilling ATV ride experience. The adventure will last about 1.5 hours to 2 hours. During the adventure, you will be facilitated by 1 ATV Green Bali complete with safety equipment such as helmets and boots.
Not only that, but the professional quad bike guide also accompanies you during the adventure. This guide will guide and help you if you encounter obstacles or problems during the adventure. So, you don't have to worry if you feel inexperienced in this ATV adventure.
The Unique And Challenging Quad Biking In Ubud
On the Bali Green ATV adventure, you will go through a unique and challenging route. Prepare yourself to conquer river tracks and jungle tracks with thrilling off-road tracks. Driving a vehicle over the river is an adrenaline rush. Feel the excitement when you have to break through the flow of water and make it splash everywhere.
While the track is muddy, it will force you to extra control the speed of the ATV so that it can pass smoothly. Before the adventure, make sure you wear clothes that are ready to get dirty. Because the muddy track is guaranteed to make the clothes you wear on the adventure get wet and dirty. Choose the type of clothing that is simple and comfortable to wear to make it easier for you to move while riding the ATV.
Instagrammables Photo Spots Available Along The Track
In this ATV Bali Adventure, you will not only find challenging tracks but also some points with stunning views such as rice fields, waterfalls, and dragon-shaped caves.
Natural Green Rice Fields
On the adventure route, you will pass through beautiful rice fields owned by the local community. Rice fields look neatly lined up on the side of the ATV track. If you go on an adventure right before harvest time, you will be able to see the eye-catching green scenery of the rice paddy.
Artificial Waterfall
At this waterfall point, usually, the riders will stop for a while to rest while taking memorable photos of the background of this waterfall. If you also want to take pictures here, you can ask the guide to stop for a moment and help take photos
Artificial Dragon Cave
This cave point is located not far from the waterfall, you can also take pictures with this unique cave background. The shape of the mouth of the cave is very interesting like a dragon's head with an open mouth position. From the shape of the dragon's mouth, the riders will come out using ATVs. You can also stop for a moment to take photos right in front of the cave. Some of the background points above are guaranteed to give you interesting and memorable photos during your adventure.
ATV Green Bali Adventure Price
Single Ride: Rp 499.000
Tandem Ride: Rp 799.000
*Single means 1 ATV for 1 person & Tandem means 1 ATV for two people
The Payment & Cancellation Policy
The Payment Method
Online Payment: We accept payments via PayPal and will send the invoice to your email after confirming your reservation. Please note that an additional fee of 4.9% will be applied for PayPal transactions.
Cash On Arrival: Our driver accepts and collects cash payments in USD or IDR before the trip starts.
The Cancellation Policy
Cancellation: You can cancel the activity at no cost by informing us at least 48 hours in advance.
Amend Booking: Please inform us at least 48 hours before the tour start date if you need to change or postpone your booking.
Green Bali Adventure ATV Ride Price Inclusive Of:
1.5 to 2 hours ATV Ride Experience
Experienced Quad Bike Instructor
Safety Equipment (helmets and boots)
Locker, Towel, Shower / Toilet facilities
Complimentary Meal & Drink
ATV Green Bali Adventure Price Not Inclusive Of:
Hotel transfers
Photo Documentation
Personal expense
Gratuities (optional)
Bali Green ATV Ride Tour Itinerary
The Green Bali Adventure Quad Biking activity is available between 8.00 am to 3.00 pm. And it is a sample of the itinerary if you arrive at 9.00 am:
09.00 – Arrive at the ATV Green Bali Adventure (Registration)
09.15 – Preparation & Saftety Brefing
09.30 – Start the Bali Quad Biking Adventure
11.30 – Finish the ATV Ride and shower
12.00 – Enjoy lunch at the ATV Resto
12.30 – The trip ends
What Should Prepare To Join This Green Bali Adventure Quad Biking?
Before joining the adventure, it is recommended that you do some preparations for the adventure for a better experience. Some of these preparations include:
Tips Bali ATV Ride Adventure Tour For Beginners
Before you join this ATV Ride activity, you need to know how to ride an ATV in Bali before you join it so that your adventure will be more fun. Below are some ATV Riding tips in Bali for beginners, let's check!
How To Make A Reservation?
Check Availability to our reservation staff through WhatsApp or Email
Submit Booking, After we reconfirm the tour availability, then submit your booking form
Booking Confirmed, After receiving your booking request, Our customer service will send you the voucher via WhatsApp or Email.
Ready To Travel, You can show the e-voucher to our driver upon pick-up time and then complete the payment
Tour Reservation Form
Please Fill Up The Reservation Form Below To Submit Your Booking Request Our Reservations Team Will Follow Up On Your Request As Soon As Possible
The Green Bali ATV Ride Location On Maps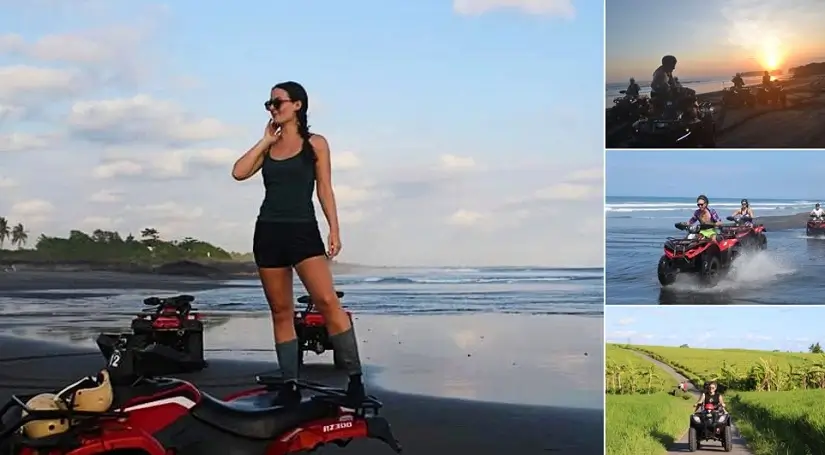 BY OZZY BALI ADVENTURE
Ozzy Bali Adventure is one of the best Bali quad biking adventures that offer morning or sunset rides. Start your experience in traditional Balinese villages, Rice Fields, and Black Sandy Beach.