Bali ATV Ride Ayung River Rafting is one of the exciting Bali Double Activities Tour Packages to offers you unforgettable experiences in two different activities in one-day trips. It would be 2 hours on Bali White Water Rafting in Ayung River and 2 hours on Bali Quad Bike Ride at Payangan. This trip is suitable for those who love to pump up adrenaline on adventure tours.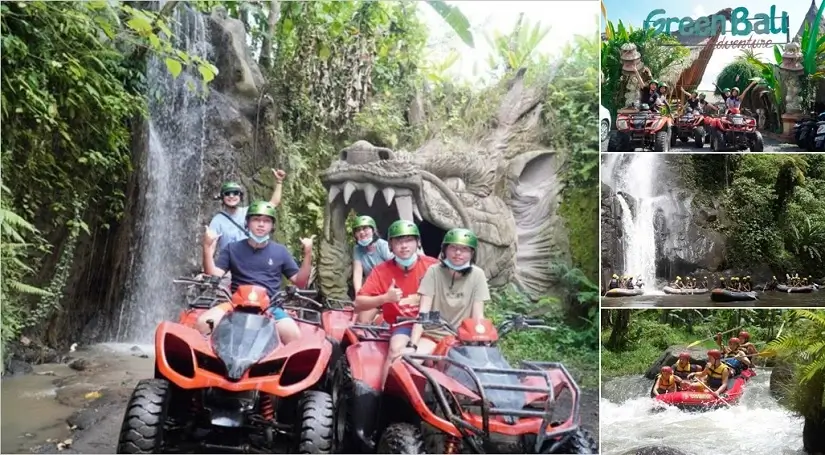 Explore the Ayung River Ubud on Bali White Water Rafting Trips
Pump up your adrenaline on Quad Bike Adventure Tours
Bali ATV Ride Ayung River Rafting adventure will start at 08.00 AM from your hotel. Then our driver will take you to the Ayung River Company in Ubud. The Ayung River is spectacular in Bali, and the rapids are very enjoyable, set against a backdrop of pristine rainforest, beautiful waterfalls, and rock carvings on the river walls.
Ayung River is suitable for you who like to do white water rafting adventures with medium tracks. The Ayung River is one of the best white water rivers in Bali for rating activities.
After the rafting is over, we will serve your lunch at the rafting restaurant.
And then, we will drive you to the Quad Bike Company in the Ubud area to enjoy two hours of Bali ATV Riding.
The Bali ATV Ride Rafting Tour will take you to a wonderful experience riding on all-terrain vehicles (Quad Bikes). It would be the long and challenging tracks through the rice fields, jungle, rivers, and natural Bali traditional village that is not monotone. It's safe and suitable for beginners and professionals.
Ayung River Rafting Tour is one of the best Bali White Rafting Tour in the northern part of Ubud with the beautiful and high riverbank. Ripples irrigate the river rock, tracing Bali nature pass the river with full of fun and pass through the attractive and challenging rapids are the impressive Ayung Rafting experience on your vacation in Bali. Your Bali Rafting Tour adventure in the water will end at the finish point. Read More – Ayung River Rafting
Bali ATV Ride Tour is part of our Bali Activities Tour Package that allows you to ride an ATV Bike or QUAD Bike for a 1,5 – 2 hours trip to a secluded track and see the stunning scenery along the way. You will experience a rice field perspective and see daily social practice life in a village near the ATV track. Read More – Bali ATV Ride Tour
All About Bali ATV Ride Rafting Tour Packages
Price
Itinerary
Terms
Booking
Bali ATV Ride Ayung River Rafting Tour will be very comfortable using our private air conditioning vehicle. To keep your convenience and enjoyable journey, our professional Bali Tour Driver is always outstanding to offers his best service with the information you need.