Lempuyang Temple Tour (Gate Of Heaven Tours) is a day trip to east Bali to visit Lempuyang Temple, Tirta Gangga Water Palace, Bat Cave Temple, and Kerta Gosa Hall Of Justice.
Lempuyang Temple Tour Overview
Lempuyang Temple Tour is one of the exciting Bali Full Day Tour Packages to visit the most iconic and photogenic attractions in the eastern part of Bali. Gate Of Heaven Bali Tour is one of the famous Bali Instagram Tour Packages to enjoy the beautiful view of Lempuyang Temple (Gate Of Heaven), Tirta Gangga Water Palace, and Kerta Gosa (Hall of Justice), and Bat Cave Temple (Pura Goa Lawah).
Lempuyang Temple Tour Highlights
A trip to eastern Bali's most iconic and photogenic attractions.
Capture the images of a lifetime in front of the Gates of Heaven at Lempuyang Temple
Marvel at the former royal water palace of Tirta Gangga
Engaging guide & chance to grab a tasty lunch along the way
Admire thousands of bat bodies packed tightly along the cave of Goa Lawah
See elegant architecture & intricate paintings at Kerta Gosa, and learn story painting along with Hall of Justice's wall
Please take note of the following rules to visit Lempuyang Temple as the holy temple of Bali:
There are 7 temples inside the Lempuyang Temple compound. You will need around 4 hours to visit all the 7 temples. However, we will only take you to the famous photo spot which is located at the first temple, around a 5-minute walk. So you won't have to walk far before you get your cameras out.
You must cover your shoulders. Please wear a T-shirt with sleeves or use a scarf to cover your shoulder before entering the Lempuyang Temple compound.
Please note to hold firm to the social etiquette. No kissing and no hugging in the compound of Lempuyang Temple Bali.
You can't use a drone in the Lempuyang Temple compound.
You will see Mt Agung via the Gateway to Heaven – the photo spot if the sky is clear and the weather is good.
Bali Lempuyang Temple Tour Price
US$55/person
The minimum booking is two participants
The Payment & Cancellation Policy
The Payment Method
Online Payment: We accept payments via PayPal and will send the invoice to your email after confirming your reservation. Please note that an additional fee of 4.9% will be applied for PayPal transactions.
Cash On Arrival: Our driver accepts and collects cash payments in USD or IDR before the trip starts.
The Cancellation Policy
Cancellation: You can cancel the activity at no cost by informing us at least 48 hours in advance.
Amend Booking: Please inform us at least 48 hours before the tour start date if you need to change or postpone your booking.
Gate Of Heaven Bali Tour Price Inclusive Of:
Private hotel transfer with the air-conditioning vehicle includes fuel
Professional English-speaking driver cum guide
Entrance fees at all tourist destinations as mentioned
Free sarong to enter the temple
Parking fee
Bottled water
Lunch Indonesian food at a local restaurant
Lempuyang Tour Price Not Inclusive Of:
Other personal expenses
Tips and gratuities (optional)
Things You Need To Know:
Your exact pick-up time will be confirmed in your voucher email
This activity is subject to favorable weather conditions
If the trip is canceled due to poor weather, you will be given the option of visiting another site at no additional charge
You should wear clothing that covers your shoulders and knees as a sign of respect when visiting the Temple.
Lempuyang Temple Tour Itinerary
08.00 – Pickup from the hotel
10.30 – Visit Lempuyang Temple
12.00 – Visit Tirta Gangga Water Palace
14.30 – Visit Goa Lawah Temple Bali
15.30 – Visit Kerta Gosa
16.30 – Back to the hotel
Route Map Lempuyang Temple Tour
Terms & Conditions Of Gate Of Heaven Bali Tour
The minimum booking is 2 participants (adult price)
For solo traveling, an additional charge of 50% will apply
Children under 10 years old 50% Off and Infant under 3 years free of charge
Flexible Tour: Please feel free to contact us if you have any own itinerary
Private tour: means there is no other participant, just only you and your companion
Reasonable and fair prices (no hidden fees)
The payment method is Cash On Arrival (Payment in Indonesian Rupiah based on the latest exchange rates)
Cancellation Policy: Full refunds will be issued for cancellations made at least 24 hours prior to the activity
The Most Famous Bali Tourist Attractions Will Be Visited
Goa Lawah Temple is one of the Hindu temples and a favorite tourist object in Bali located near the hilly bank. A nature cave dwelt by thousands of tail bats set on the north side of Jeroan/center of Goa Lawah Temple. Meanwhile, the main road from Klungkung to Amlapura is just in front of the temple. This cave is opposite the beautiful beach with black sand along the coastal area. Read More > Goa Lawah Temple
Tirta Gangga Water Palace is one of the famous tourist destinations in the east part of Bali, and it is one of the stop points of tourist objects on the East Tour Itinerary. In the middle area, there are small statues set on the stone to decorate the park to make a good looking. All of the statues are taken from the Hindu Historical epic like Maha Bharata or Ramayana. Read More > Tirta Gangga Water Palace
Kerta Gosa is an ancient building designed with Balinese architecture that is an open house as a jurisdiction place where the king announces the legislation, jurisdiction, penalization, etc. The building is encircled by the fishpond with tropical plantations to make the artistic value that makes this place a favorite on Bali Island. In its building roof, it is covered by full of ancient puppet pictures depicting human life in eternity. Read More > Kerta Gosa
Pura Penataran Agung Lempuyang is one of the oldest Hindu temples in Bali, located on the highlands in the eastern part of Bali Island. This tourist destination is well known as the GATE OF HEAVEN BALI or The Gateway to Heaven. The entire landscape looks very picturesque from this temple gate. But the most scenic view is possible to enjoy from the top of the temple if you can climb more than 1700 steep steps. Read More > Lempuyang Temple Bali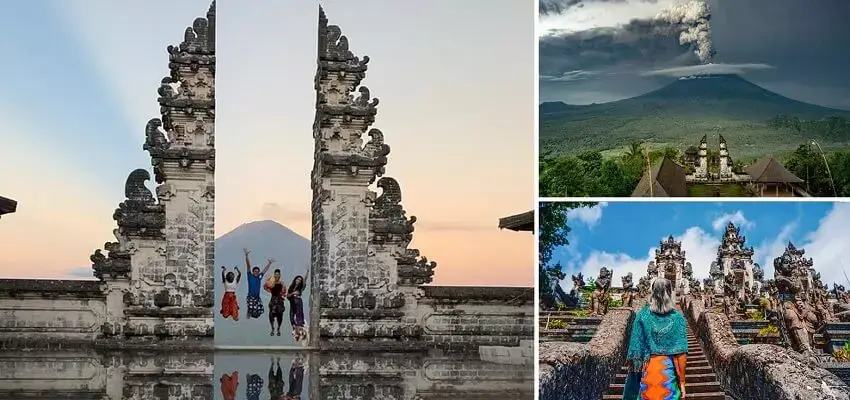 How To Make A Reservation?
Step 1: Check Availability to our reservation staff through WhatsApp or Email
Step 2: Submit Booking, After we reconfirm the tour availability, then submit your booking form
Step 3: Booking Confirmed, After receiving your booking request, Our customer service will send you the voucher via WhatsApp or Email.
Step 4: Ready To Travel, You can show the e-voucher to our driver upon pick-up time and then complete the payment
Use this booking format below if you would like to make a booking through WhatsApp or Email
Full Name:
Nationality:
Total Person:
Phone Number:
Hotel:
Room Number:
Tour/Service Name:
Date Of Tour:
Our email may go to your spam mailbox, please check your spam mailbox if you don't receive our response immediately.
The Lempyang Temple Tour will be completely enjoyable using our private air conditioning vehicle and accompanied by our professional Bali Tour Driver standby to give you complete information.