Nusa Penida Day Tour To Explore The Most Popular Site On The West Coast Of Penida Island Such As; Angel Billabong, Broken Beach, Kelingking Beach, And Crystal Bay
Nusa Penida Day Tour Overview
Nusa Penida Day Tour is one of the exciting Bali Full Day Tours to explore the hidden beauty on the west coast of Penida Island. This day trip is one of the newest one-day trips to visit the most popular tourist attractions on the paradise island of Nusa Penida.
Bali Nusa Penida Tour Packages Overview
Nusa Penida Day Tour Package will pick you up at your hotel areas such as Nusa Dua, Kuta, Seminyak, and Denpasar, then take you to Sanur as our meeting point. When arriving at Sanur, everybody will get a light breakfast and then cross to Nusa Penida for around 1 hour on the fast boat.
When you arrive on Nusa Penida Island, our friendly English-speaking driver cum guide will welcome you at the port. And the Nusa Penida Day Tour will start the journey to explore Kelingking Beach to see the scenic beauty of the cliff with stunning white sandy beaches that will make you fall in love. Nusa Penida Day Tour will continue to visit Angels Billabong. This place is a natural infinity pool on the island of Nusa Penida. The trip will continue to see Broken Beach. It is a large cave that has lost its roof over time. It is a great place to take photos.
Our team will serve you lunch at the restaurant, then relax for a while. Afterward, we will visit Crystal Bay has relatively calm diving conditions. The water is crystal clear, at this place is excellent for snorkeling. Then we will take you back to Bali again after the Nusa Penida Tour is ended and drive you back to the hotel.
Nusa Penida Tour Price
US$70/person
*Minimum booking is two participants
Get Our Best Offers Today!
Reserve now and pay later at the location
Free cancellation up to 24 hours in advance
Secure your spot while staying flexible
The price is valid only this week!
Nusa Penida Tour Price Inclusive Of:
Private hotel transfer with air-conditioning vehicle (Hotel – Sanur Port – Hotel)
Round trip Public fast ferry transfer (Sanur – Nusa Penida – Sanur)
Professional English-speaking driver cum guide
Private trip in Nusa Penida to visit Broken Beach, Angels Billabong, Kelingking Cliff & Crystal Bay
Lunch (Set Menu Indonesian food)
Entrance fees at all tourist destinations mentioned
Parking fees in each spot
Admission fee to enter the island
Bottled water during the trip
Penida Tour Price Is Not Inclusive Of:
Personal expense
Gratuities (optional)
Things You Need To Know:
Your exact pick-up time will be confirmed in your voucher email
Free hotel return transfers in the covered areas: Kuta, Legian, Seminyak, Jimbaran, Nusa Dua, and Sanur
Pick-up and drop-off in remote areas, such as Uluwatu, Pecatu, Canggu, and Ubud are subject to an additional charge of US$10 per group (up to 6 pax)
Should you bring: Hat, Sunglasses, Sunscreen, comfortable footwear, Change Clothes, and Underwater Cameras
The car ride can be quite bumpy so be sure to take motion sickness tablets if needed
Nusa Penida Tour Itinerary
06.30 – Pickup from hotel
07.30 – Arrive in Sanur Harbor & check-in
08:15 – Depart to Nusa Penida
09:00 – Arrive in Nusa Penida.
09:30 – Start the island tour by private car with a guide to visit: Broken Beach, Angels Billabong, Kelingking Cliff, & Crystal Bay Beach
16:30 – Depart from Penida to Sanur
17:15 – Arrive in Sanur and drop back at the hotel
Terms & Conditions Of Nusa Penida Day Tour
Minimum booking: 2 participants (adults prices)
Children: under ten years old 50% Off and Infant under three years free of charge
Flexible Tour: Please feel free to contact us if you have any own itinerary
Semi-Private Tour: Private hotel transfers & Private trips in Nusa Penida, which means there is no other participant, only you and your companion.
Payment method: Cash on the same day (Payment in Indonesian Rupiah based on the latest exchange rates)
Cancellation Policy: Full refunds will be issued for cancellations made at least 24 hours before the activity.
The Most Famous Bali Tourist Attractions Will Be Visited
Broken Beach is one of the best attractions located in Nusa Penida. Broken Beach offers a stunning view of the rocky hole in the middle as an incomparably beautiful view. According to the local belief, people were here killing snakes and their meat to sell and distribute to the locals. And the gods were angry and made the ground around the area fall and make a big hole so that local people. Read More > Broken Beach Nusa Penida
Crystal Bay is one of the famous tourist attractions in Nusa Penida. Crystal Bay offers stunning beach views perfect for sunbathing, swimming and snorkeling. The beach, several coconut trees make the beach more beautiful. When the seawater is exposed to the sun will twinkle like many crystal beads on the beach, so the local people give this beach the name Crystal Bay. Read More > Crystal Bay Nusa Penida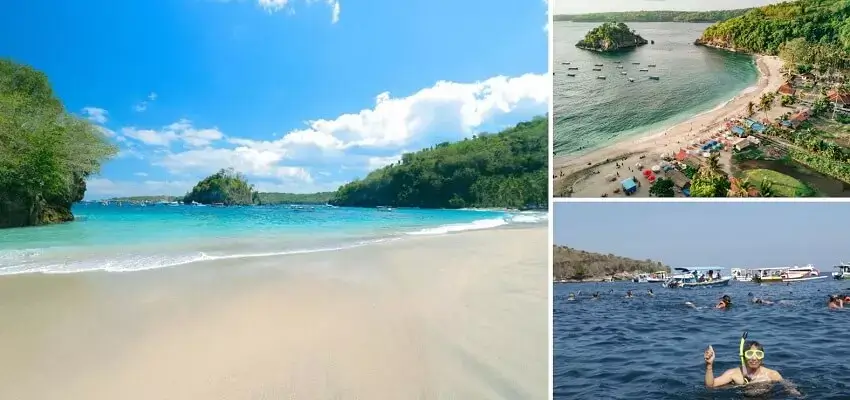 Kelingking Beach is one of the most famous tourist objects in Bali Nusa Penida. This tourist attraction is the best to take photos of because the scenery offered is spectacular. Kelingking in English word means Pinkie finger. Kelingking's name comes from the shape of the rock on the beach is looks like Pinkie's finger. The local people named this place the name of Kelingking beach. This place is known as the T-Rex due to the rock also seen as being shaped like a dinosaur. Read More > Kelingking Beach Nusa Penida
Angels Billabong is one of the famous tourist destinations in Nusa Penida. Angel Billabong is a natural stone lagoon with beautiful ocean views located on the beachfront and offers stunning views. You can go down to see up close the natural beauty of coral reefs, and you can swim in this natural lagoon if the water is low tide. According to local people, the name Angel Billabong comes from a myth that this place is a place to bathe Angels, so this place is often called Angel Billabong. Read More > Angels Billabong Nusa Penida
How To Make A Reservation?
Step 1: Check Availability to our reservation staff through WhatsApp or Email
Step 2: Submit Booking, After we reconfirm the tour availability, then submit your booking form
Step 3: Booking Confirmed, After receiving your booking request, Our customer service will send you the voucher via WhatsApp or Email.
Step 4: Ready To Travel, You can show the e-voucher to our driver upon pick-up time and then complete the payment
Use this booking format below if you would like to make a booking through WhatsApp or Email
Full Name:
Nationality:
Total Person:
Phone Number:
Hotel:
Room Number:
Tour/Service Name:
Date Of Tour:
Our email may go to your spam mailbox, please check your spam mailbox if you don't receive our response immediately.
Related Tour In Nusa Penida
Penida Snorkeling Tour is one of the exciting snorkeling tour packages to enjoy a snorkeling trip at four iconic snorkeling spots in Nusa Penida. This trip will explore the beautiful underwater world of Manta Bay, Gamat Bay, Wall Point, and Crystal Bay.
Penida Snorkeling & Island Tour
Penida Snorkeling Island Tour is one of the exciting combination tour packages to enjoy the snorkeling trip at Nusa Penida and combine it with a sightseeing tour to visit Broken Beach, Angels Billabong, and Kelingking Beach Point.
The Nusa Penida Day Tour from Bali will be enjoyable using our private air conditioning vehicle and accompanied by our Professional English Speaking Driver who is outstanding to give you complete information.