Blue Lagoon Beach Bali is one of the Bali tourist attractions that located on the east side of Bali Island and it would take 1.5 hours drive from most famous tourist destination south Bali, like Kuta, Jimbaran.
The Blue Lagoon Beach lies just northeast of the main beach of Padang bai and is framed by green and rocky hills on both sides. Here you can pick a sunbathing spot right on the sand or, if you prefer, opt for a space in the shade as the entire edge of the beach is lined with palm trees.
The Blue Lagoon Beach is really present an enchanting panoramic sea. The large sand grains like pepper with decorated hills surrounding the semi-circle of blue bay. It is a so blue fresh sea water beach.
About Blue Lagoon Beach Bali
Blue Lagoon Beach Bali which is in the earlier time known as little beach have a very exotic panorama although this beach is not as wide as many beaches in Bali. Blue Lagoon which is located under the north canyon of Silayukti temple have a calm waves, because it is surrounded by black corals.
The Blue Lagoon Beach which has an area of 2 ha was developed since 1991. Actually, this beach can give you a perfect natural fantasy. This white sand beach is available not only for sunbathe or swimming but also for snorkeling.
This beach is potential to develop along with interest increase of international tourist to this object. The existence of accommodation such as hotel, restaurants and spa with the international standard will make Blue Lagoon as one of dream touristic site in east Bali especially for Karangasem regency.
Blue Lagoon Beach Bali  Snorkeling
Blue Lagoon Beach Bali has clean water, there are lots of coral and fishes near the shore which makes it good for snorkeling, swimming, and taking underwater photos.
You can hire equipment directly at the beach and explore the colorful underwater world here. The snorkeling area has a sandy bottom and is home to one of Bali's coral reefs. While you are exploring the reef, expect to see cattle fish, angel fish, cow fish and moray eels.
Followed by shoals of black fish with tails shaped like the head of a spanner, you might even see a fish in a leopard-print coat, and if you look carefully, you will notice cleverly camouflaged creatures hiding in the reef crevices.
Location Blue Lagoon Beach Bali On Map
Blue Lagoon Beach Bali is located the village of Padangbai, Manggis Subdistrict, Karangasem regency, Bali, Indonesia. Only 5 min from Padangbai port, or 1 hour and 30 minutes drive by car from Denpasar Ngurah Rai International Airport, and Kuta area.
Direction How to Get to Blue Lagoon Beach Bali
The Blue Lagoon Beach Bali is easily accessible from any areas of Bali, however if you come from south Bali areas, either Kuta, Seminyak, or Jimbaran.
Drive to the east to Padangbai within 1 hour 30 minutes drive by car via Jalan Bay Pass Ida Bagus Mantra. To be able to get to the beach, point your vehicle to the port of Padangbai.
There is reliable signage that will lead you up to the lagoon. About 300 meter before getting to the port of Padang Bay there is a T-junction, turn left and you will find a parking area.
Upon arrival at the Blue Lagoon Beach, you will be amazed when looking at the beauty of the beaches. There is no public transportation to Blue Lagoon Beach, so we recommend renting a scooter or car with driver and taking a tour packages Blue Lagoon Snorkeling Day Tour of east Bali to discover some of the best hidden gems!
Entrance Fee At This Bali Tourist Attractions
Visit to the Blue Lagoon Beach Bali is no entrance fee required, however it just small amount of 10,000 IDR for parking. if wish to get snorkeling equipment can be rented from the beach warung which is only 100,000 to 150,000 IDR per person.
Many facilities are available at this beach as stalls by the beach and also a cafe that offers a variety of different local foods and beverages with varying prices. In addition, here too there is a good lodging star hotel that rents are expensive to cheap lodging in economy class where it is located directly overlooking the sea. So you can rest comfortably accompanied natural scenery starfish on this beach.
What to Expect at Blue Lagoon Beach Padang Bai Bali
Blue Lagoon Beach Bali has a salt and pepper mix of golden and black volcanic sand. At either side of the bay, craggy black lava rocks create small but interesting rock pools to potter around in search of tiny crabs and creatures. Surrounding cliffs are almost hidden by a camouflage of prickly pear cactus. If you're quicker than the locals, the ripe red fruit of this cactus is edible –it's sweet and delicious.
The Blue Lagoon Beach is quite shallow and there is no flow. Only about 5 meters depth of water, there are some great coral reef with various shapes and colors, starfish, as well as the life of a beautiful tropical fish such as the type of Napoleon, reef sharks, octopus, and sea eel. This is what makes this beach is very popular for tourists as diving activities and shooting underwater marine life.
Along this coast there are many fishing boats lined up neatly. Many people around who worked as fishermen. In addition to looking for fresh fish, the boat is ready to take you diving in the sea. For those of you who have never dived and want to try to get new experiences, some places provide a means to learn to dive, so you also can enjoy the beauty of the underwater with ease and safety.
Best Scuba Diving in Blue Lagoon Beach
There are several diving sites in Padangbai, but Blue Lagoon is by far the best place to admire the diverse underwater life. Blue Lagoon dive site is located off the east coast of Bali, only 5 minutes boat ride from Padang Bay.
Blue Lagoon is actually a small bay with white sandy bottom. Due to its protected location, Blue Lagoon offers easy and relaxing diving for both novice and experienced divers and it is also good for snorkeling. Here you can admire the wide stretch of Staghorn corals, and the amazingly diverse fish life.
Also catch a glimpse of the huge humphead wrasse, which also goes by the name Napoleon wrasse. It is around 1.5 to 2 meters long, and its huge lips make this fish look quite funny.
It is definitely a wonderful adventure to swim along the immense humphead wrasse at the Blue Lagoon. Some other interesting fish species you can see here are the stargazers, the colorful scorpionfish, the rays and the blue ribbon eel which is categorized as being a very elegant fish due to its soft waving movements and its thin and elongated body shape.
There is a true colorful aquarium that you can admire here at the Blue Lagoon. You will notice many photographers as well, who have come for the amazing sights that this place offers. If you want to be part of a truly amazing experience, then you should book your trip so that you can stay for the night, and try out an organized scuba diving trip at night. It is an experience you will never forget!
Best time for Snorkeling, Swimming, and Sunbathing in Blue Lagoon Beach
Bali has good weather during the dry season of April to October. This is when the island has the least rain, the most sun, and the lowest humidity. However, Bali is a good destination any time of year. But the best time for Snorkeling, Swimming, and Sunbathing in Blue Lagoon Beach is between April to October are the sunniest driest months with lots of sun.
Accommodation, Hotel, Resort Near Blue Lagoon Beach Bali 
Bloo Lagoon Village
Bloo Lagoon Village is a four-star international village located within the grounds of Padangbai, East Bali, approximately 90 minutes drive from Ngurai Rai International Airport. This property is 2 minutes walk from the beach. Located in eastern Bali, Bloo Lagoon Village provides an tranquil eco-friendly getaway from the city.
It offers elegant eco-friendly villas with easy access to a beach and provides scuba diving lessons. Free Wi-Fi is accessible from the entire village. Set amidst beautifully landscaped gardens, villas at Bloo Lagoon are decorated in a tropical style with thatched roofs. It features a separate living room, terrace and a kitchen, which are fully furnished.
Blue Lagoon Beach Bali as one of the most visited beach in Bali. Thank you for reading this article.
BLUE LAGOON SNORKELING
SNORKELING & RAFTING TOUR
SNORKELING & ATV RIDE TOUR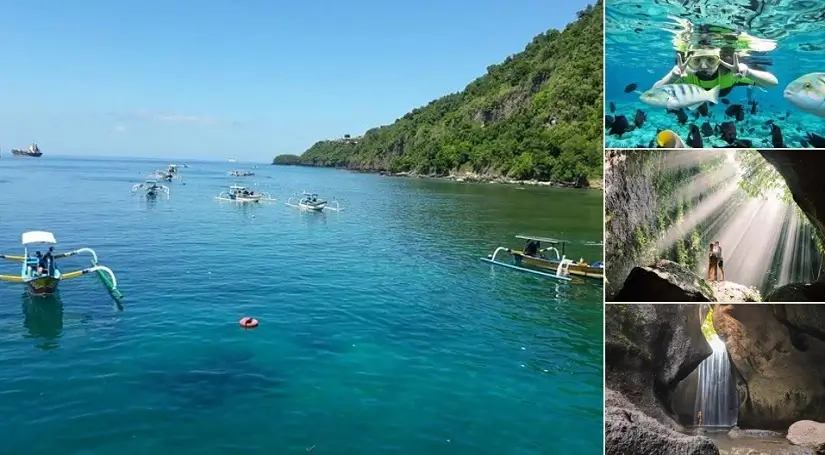 SNORKELING & WATERFALL TOUR